Dermapure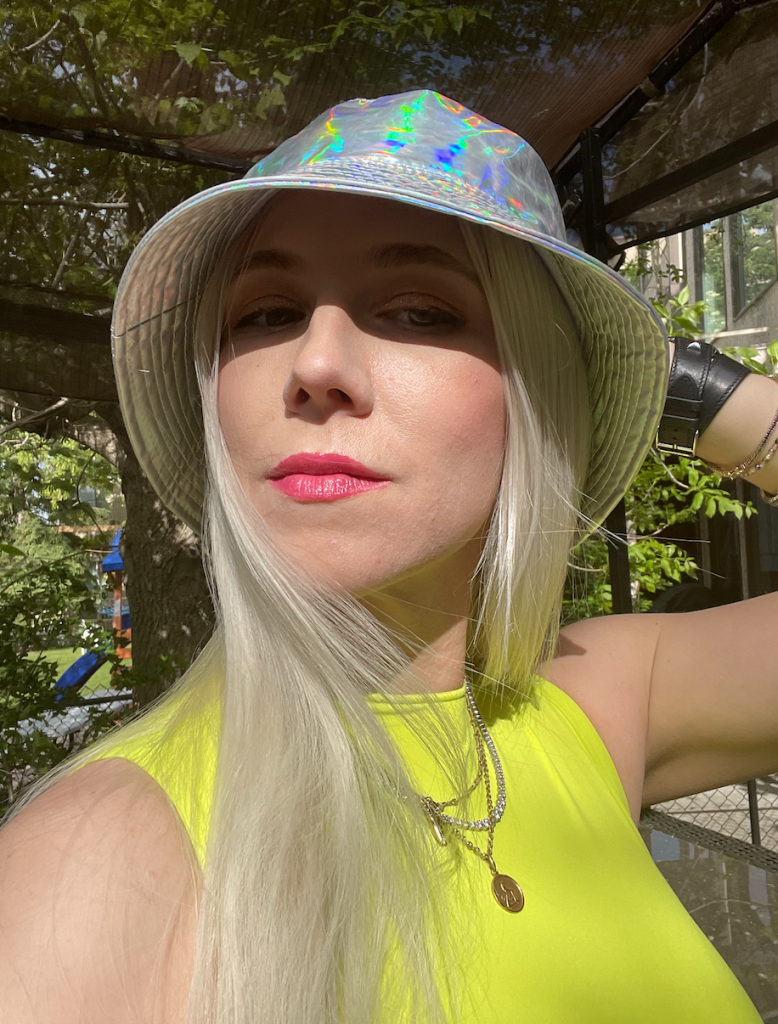 This pandemic has not done my skin any favours. I thought not wearing makeup most days would have improved my skin, but no. Not wearing makeup just actually made me feel quite drab.
The closer I creep up to 40, the more I notice fine lines deepening, the elasticity and tautness of my skin relaxing. This was amplified by numerous zoom calls and bad lighting over 2020.
I have always prided myself on my complexion that I militantly keep out of the sun and wear an spf 50 daily. I feel I look good for my age and am definitely not afraid of aging. I just want to be the best version of myself as I move into my 40's and onward doing whatever I can to slow the process.
This year I partnered with  Dermapure,  here in Calgary, for all my skincare and beauty needs to rejuvenate my skin. I did treatments that gave me noticeable and natural results with no down-time.
Dermapure's  team of doctors and experienced professionals spent many hours with me addressing my concerns, combining cutting-edge technology with their topical cosmeceuticals  Functionalab  to give me the outcome I desired.
Dermapure's  skin philosophy is one I love #gymforyourskin, just like we train out bodies and our minds, we must also train our skin. Our skin needs to be nourished and cared for as we age with moisture and protection from the sun.  Dermapure  provides the most innovative non-surgical rejuvenation treatments that give you noticeable and natural results. During my initial consultation, they created my "skin workout plan". Now I incorporate different treatments and daily skincare habits to keep my skin looking healthy.
Here are the skin treatments I did:
The Silk Peel Facial Treatment: This tranquil treatment is performed as a gentle microdermabrasion with a serum infusion followed by a mask and extractions. It was luxurious, relaxing and left me glowing for days. I loved how supple and fresh my skin looked following this treatment.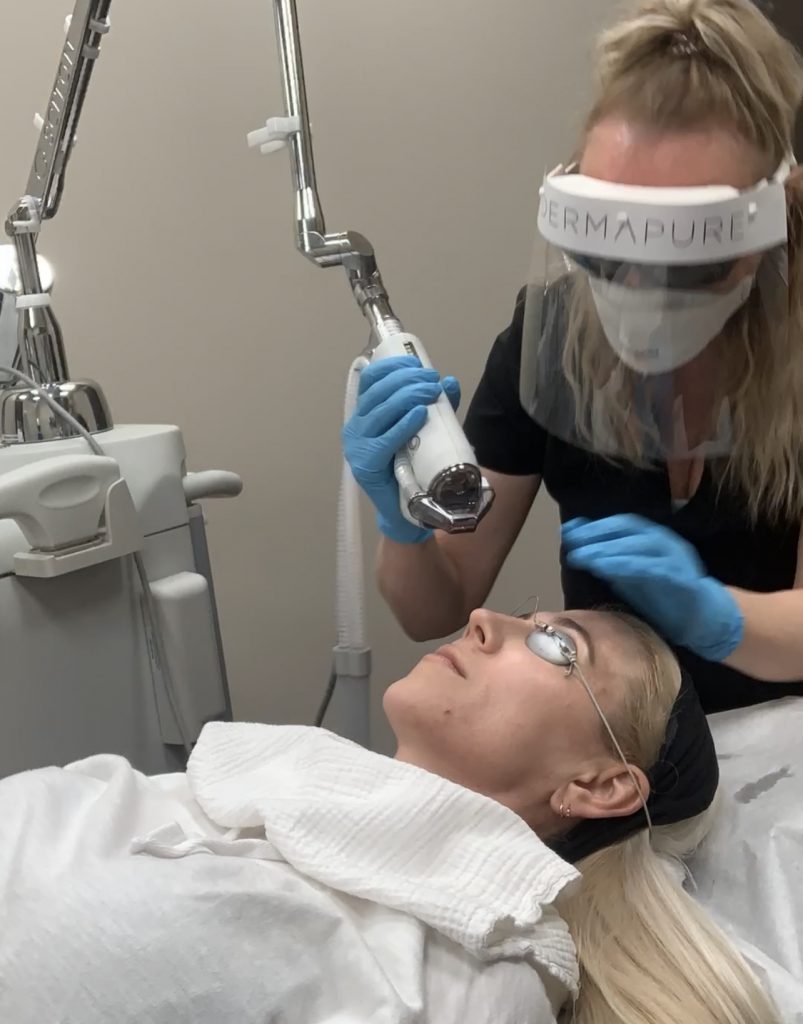 Halo Treatment: This treatment uses a fractional laser technology to improve the overall appearance of the skin while reducing fine lines, texture, sun damage and enlarged pores. Before starting this procedure a numbing agent goes on your face for 45 minutes. The laser treatment didn't hurt at all during the procedure, but I had a lot of pain and swelling immediately after this treatment. My skin was peeling and rough/raw for 6-8 days. Luckily with a mask and sunglasses no one could tell so I went about my business as normal. The results from this treatment are gradual as the skin heals. The most dramatic different to me was my skin texture.  This treatment gave me a porcelain smooth complexion, got rid of small acne scars and fine lines (but you will see in my after pictures I am still getting occasional breakouts). Although this treatment was quite aggressive, I am extremely happy with the results.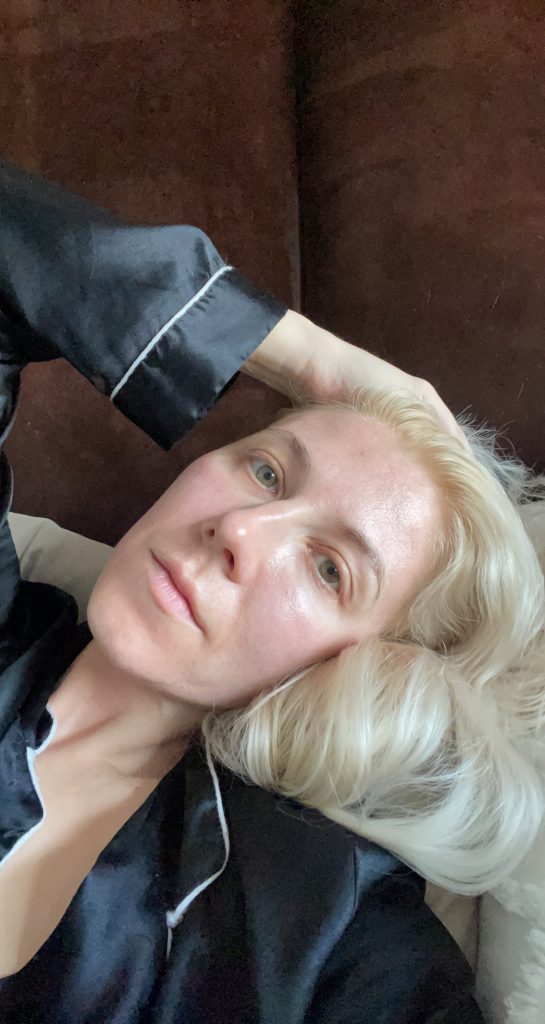 5 Days Post Halo Treatment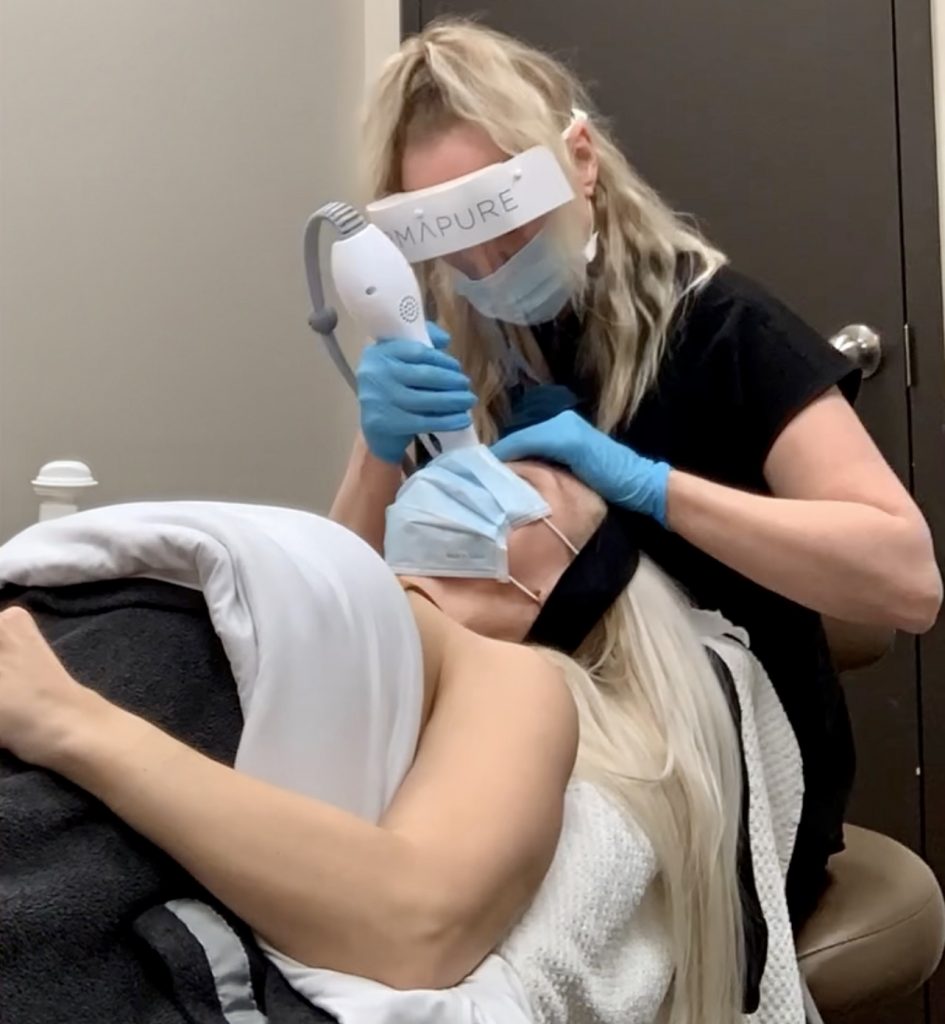 Thermage Eyes: This treatment is a non-invasive way to preserve the skin quality and slow the loss of collagen. The Thermage® technology combines the thermal effect of unipolar radiofrequency energy with a cooling process that protects the skin's surface layers in a treatment. I found this treatment really uncomfortable because it requires have a metal shield put into your eyeball under the eyelid. The best way to describe the actual feeling of the treatment is like getting multiple static shocks all over and around your eyelid.  It does not hurt and is not painful. The sensation is just really weird and not what I expected. I had slightly irritated and watery eyes leaving the Thermage Eye treatment but could drive and felt fine. The next morning waking up after this treatment was a dramatic difference in my overall eye skin. I can't tell you enough how magical this procedures results were. I highly recommend the Thermage Eye treatment if you are just beginning to notice the skin around your eyes change. My eyes look like they did 3-5 years ago now. This was a game-changer.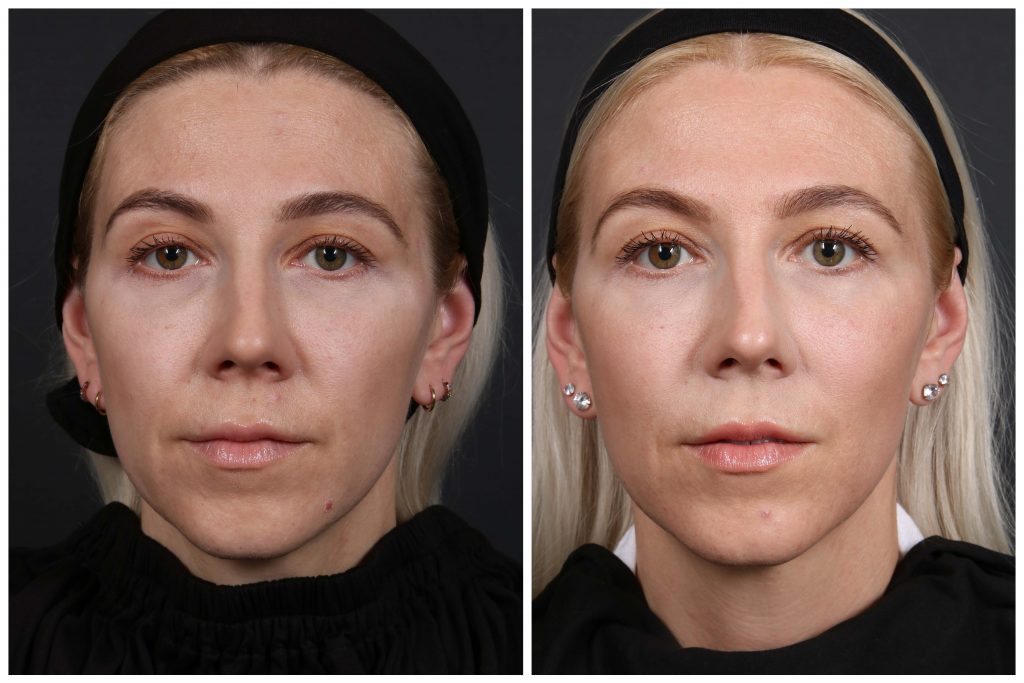 My before photos were done in April prior to my Halo and Thermage Eye Treatments. The after photos were taken this week (June- two months post treatments). My skin is obviously so much brighter from the Halo Treatment. Both the tone and texture is more even two months post treatment. The most striking difference I see in these photos is the skin on my eyes and how much tighter it is, especially on the top eyelid in the after photos. I felt like my eyes were beginning to look so tired lately. This feeling and appearance has been completely eliminated from my Thermage Eye treatment. My friends and family immediately told me my eyes looked better. I can't express enough how happy I am with the results.
Skincare: As a Dermapure Partner here is what I have been using from  Functionalab  that has really improved the quality in my skin over the past season: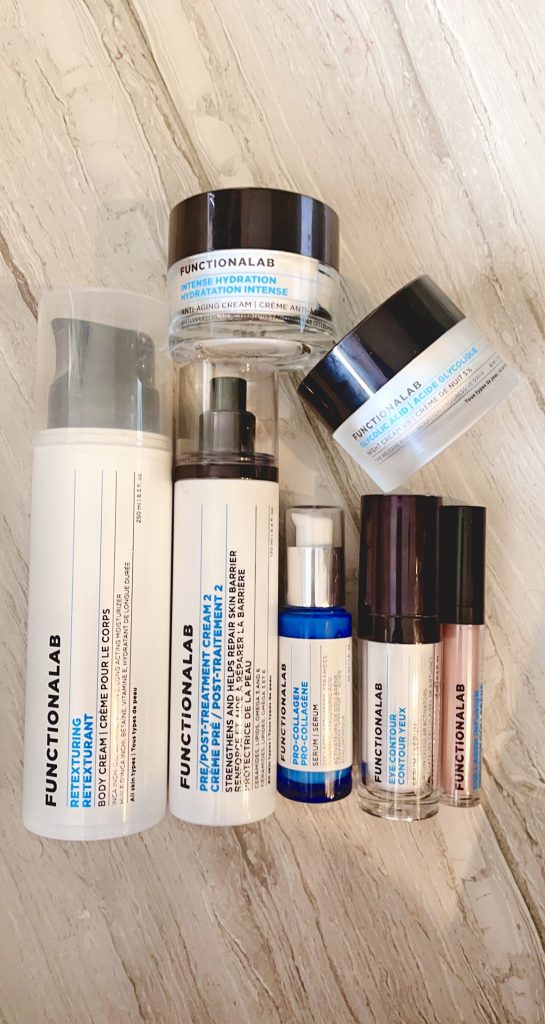 Retexturing Body Cream- I love this citrus smell of this body cream. Living in Alberta my skin is always dry. This cream is so quenching when applying it right out of the shower.
Pre/Post Treatment Cream 2- I only used this cream right after my Halo Treatment and it was amazing. It was very rich and healed my skin really quick.
Eye Contour Serum- Smooths fine lines and helps keep the delicate eye skin moisturized.
Collagen Infusion Lip Plumping Serum- The first time I tried this serum was when it was applied after the Silk Peel Facial Treatment. I immediately noticed how much more plump my lips were. I love this glossy serum and use it daily.
Pro-Collagen Serum- Used under my daytime and evening moisturizer. This serum contains collagen activators, ceramides, vitamin C and hyaluronic acid. Used to balance my complexion and plump-up fine lines while helping with collagen production.
Intense Hydration Cream- This is my day time moisturizer. I love, love, love this cream. It has a citrus smell, a wonderful texture that absorbs instantly in my skin and keeps it moisturized throughout the day. It's so great under makeup and I almost used up the whole 50 ml container in a matter of months. This is the best face cream I have ever used.
Glycolic Acid Night Cream- This night cream is a time released AHA (alpha-hydroxy acids) that gently exfoliates the skin while you sleep. This night cream promotes collagen and blood flow, improve appearance of surface lines and wrinkles, prevent acne breakouts, brighten your complexion, correct discolouration from scars and age spots.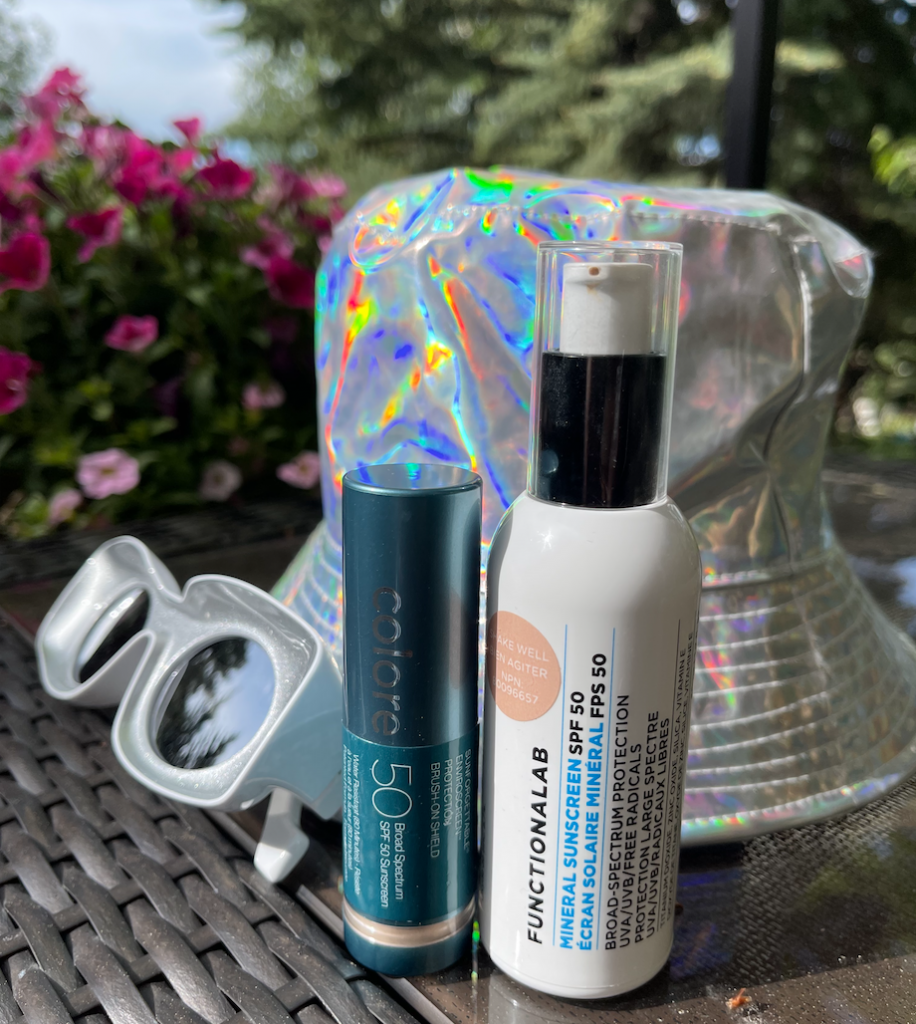 SPF 50 100% Mineral Tinted Sunscreen- This is the perfect substitute for foundation now that I have a more even complexion from my Halo Treatment. This tinted sunscreen has a wonderful texture and gives just the right amount of tint for the glowing perfect complexion. It also comes in a non-tinted sunscreen version.
I highly recommend  Functionalab  skincare. The quality of the products is so high and it has made such a difference in my skins appearance day-to-day. All of these products can be purchased at the  Dermapure  Calgary location 636 45 St SW #202, Calgary, AB T3C 2G2 or on the  Functionalab  website:  CLICK HERE
I can't wait to book my next treatment at  Dermapure  in the fall. Stay tuned for my next Dermapure blog post later in 2021 to see what I do next… TO BE CONTINUED…
*Dermapure Partner*