KO Review Go Back to China
Go Back to China  is a semi-autobiographical film about Sasha Li (Anna Akana) a rich girl living the high life, who graduates fashion school then tries to find a job. Unsuccessful in her job search, her father (Richard Ng) cuts her off from her trust fund forcing her to go back to China and work in the family business.
The film opens with  Sasha bombing a job interview then celebrating her birthday in VIP at a private club when her credit card gets declined. Sasha then gets a call from her Dad in China letting her know he is cutting her off unless she moves back to China to work for him for a year in his toy factory. Sasha decides to go to Shenzhen after she gets an eviction notice at her apartment and there are no other options available.
In China, Sasha convinces her Dad to be innovative in his factories and inspires the employees with her fresh design ideas. By spending time with her Dad's employees she comes to understand the struggles of the rural Chinese people.
Sasha's designs win over the American clients and sell big orders. Sasha's sister Carol ( Lynn Chen) starts resenting her because of her Dad being so impressed by Sasha.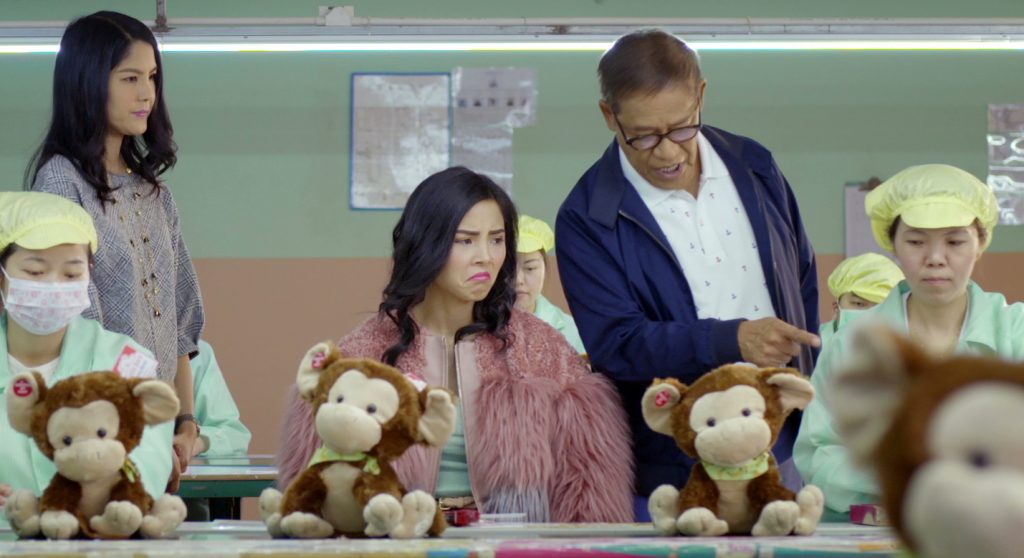 Everything seems fine until Sasha screws up one of the biggest orders. Her dad then tells her she is a useless disappointment and wishes she never came back to China. Carol and Sasha have a massive blow out over the animosity that was building between the two sisters over the years. Her toxic womanizing father plays the two sister against each other. All the women in his life make excuses for his toxic behavior except Sasha. By standing up to her father and moving back to America Sasha figures out a plan to save the order she screwed up and finds a way to support herself in the process.
Go Back to China is Clueless meets crazy rich Asians. I love how by standing up to her dad and pursuing what she believes to be right Sasha restores order in her life. This is a fun and easy film to watch.

The film was shot entirely on location in Shenzhen, Hong Kong, and Los Angeles
This film is  writer/director Emily Ting's second feature film and will premiere in Narrative Competition at the 2019 SXSW Film Festival. Based on Ting's family and experiences of working for the family business in China she created Go Back to China. Ting's intention was not to make a biopic and took a lot of artistic license with events and characters in the film. It was a story she had been wanting to tell for a long time.  For Ting, going back to China to work for the family business taught her a lot about herself in the 12 years she spent working for the family business, and making this film was a really cathartic experience for her.
The Sasha character is pretty exaggerated. Ting definitely was not as frivolous and spoiled as Sasha is in the film. She heightened her character to up the dramatic ante and accentuate her eventual growth. In many ways, Ting is actually actually much closer to the Carol character.  Sasha was a version of who Ting was at 24 and Carol is much closer to who she is today.
In real life, Ting's father has been married five times and has six children. The characters in the film are a combination of various people in his life. 
GO BACK TO CHINA OPENS THEATRICALLY ON MARCH 6, 2020
AND ALSO AVAILABLE ON DEMAND- PREORDER ON iTunes TODAY!
THEATERS: 
Village East Theater – New York, NY
Laemmle Glendale – Los Angeles, CA
Four Star Theater – San Francisco, CA
Facets Theater – Chicago, IL