KO picks for the Italian Contemporary Film Festival (ICFF) 2015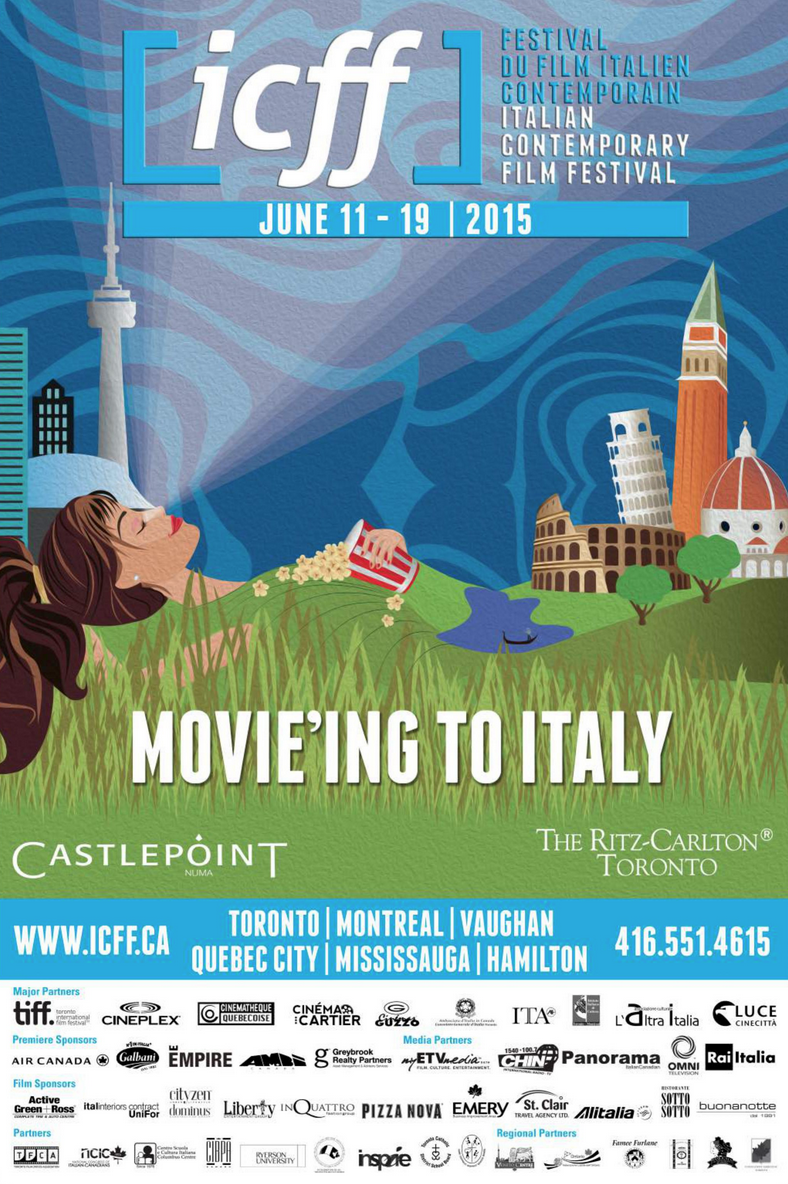 The 4th annual Italian Contemporary Film Festival [ICFF], among the most important Italian film festival in the world, takes place from June 11th to June 19th, 2015, during Canada and Ontario's Italian Heritage month. It is presented in Canada in the Cities of Toronto, Vaughan, Hamilton, Montreal and Quebec City.
Nine days to celebrate the brilliance of Italian contemporary cinema and filmmakers from all over the world.
Nine days to explore Italian contemporary cinema and discover the cultural richness of Italian heritage.
Nine days to experience the influence of Italian film, culture, fashion and design.
Using the power of the moving image to both entertain and educate, ICFF defies conventional perspectives on complex and challenging issues facing both the Italian and the global communities.
All films are in Italian or other foreign languages subtitled in English (and French in the Province of Quebec).
Highlights
9 Days and Nights of cutting edge Italian film & culture
ICFF Named one of the Top 10 Film Festivals in North America
Roberto Benigni & Nicoletta Braschi, Retrospective at TIFF Bell Lightbox
Industry Events with internationally acclaimed filmmakers and producers, including Andrea Iervolino (Ambi Pictures) & Vincenzo Nisco (Rainbow) at Pinewood Toronto Studios
North American premieres
Italian‐Canadian independent films
Q&A sessions with filmmakers, actors and academics
Glamorous Opening and Closing Galas at Roy Thomson Hall and The Ritz-Carlton Hotel
VIP soiree Invite Only with Mayor Bevilacqua Film, Fashion, Culture
To the Trade Industry Events Special Programme
The festival will present an international collection of feature films, documentaries and shorts, including premieres, advance screenings and independent films. Screenings will be supplemented by guest appearances by filmmakers, actors, authors, academics and other expert speakers and complemented by Q&A sessions.
The award: moviegoers will cast their ballots for the Best Narrative feature of the festival. The winning film will receive the ICFF Audience Award and will be honoured with a statuette created by renowned artist Silvio Mastrodascio. A second award will be conferred by the Toronto Film Critics Association. A third award is the Presenting Sponsor Award, given to the film that has made the greatest contribution to Italian social and cultural values.
Here are my top picks to see at the 2015 ICFF:
Perez
Demetrio Perez is a renowned and incorruptible criminal lawyer from Naples; perhaps one of the best lawyers of his time. He plays by the book and defends the forgotten and lost. However, after his daughter Tea gets romantically involved with Francesco Corvino, a young member of the Camorra crime family, his life takes a dangerous turn for the worse. After assisting Luca Buglione, the head of the Camorra, Perez decides to strike a deal. Buglione agrees to frame Corvino from inside the criminal organization, but only if Perez helps him recover some precious diamonds. Perez quickly realizes that he must take control to protect his endangered family and take action requiring him to cross the line between law and crime.
Director Edoardo De Angelis discovered his love for cinema at the age of 19. Considered a visionary director, he has worked on many short films screened all across the world. His very first feature film Mozarella Stories (2011) has a class named after it at the City University of New York. In 2014, De Angelis directed his second feature film Perez.
Cast: Marco D'Amore, Luca Zingaretti, Loredana Simioli, Salvatore Cantalupo, Simona Tabasco, Massimiliano Gallo
The Humbling
The Humbling is a black comedy about Simon Axler. He is a successful actor who takes a tumble from the stage while performing Shakespeare. He suffers from mental illness and has trouble differentiating between reality and fantasy, which ultimately leads him to retire from the stage. The daughter of Simon's old acting friend decides to move into his house and they soon develop a strange and dysfunctional relationship that draws the attention of her parents. Meanwhile, Simon's agent Charles Grodin tries to get him back on his feet and back to work.
Director Barry Levinson was born in Baltimore, Maryland and moved to LA where he began hisentertainment career as an Emmy Award-winning comedy writer for Carol Burnett andMel Brooks in the 1970s. His film directorial debut was Diner (1982). A series ofacclaimed films followed, including The Natural (1984) and Good Morning, Vietnam (1987). His 1988 film Rain Man earned him an Academy Award for Best Director.
Cast: Al Pacino, Dianee Wiest, Greta Gerwig, Charles Grodin, Kyra Sedgwick
 Un Regazzo D'Oro
Davide Bias is a young copywriter who moves to Rome in the wake of his father's death. His father, Ettore, was a screenwriter whom David was largely uncommunicative with throughout their relationship. Regardless, Davide decides to leave his job and girlfriend in Milan and moves in with his mother in Rome. After he arrives, he meets a publisher who wants to release his father's autobiography. Intrigued by the idea of getting to know him better, and also getting better acquainted with the beautiful publisher, Davide decides to write the autobiography himself after finding nothing worth submitting on his father's old computer. In trying to channel his father's voice, he dives into professional frustration and impossible love for a married woman.
Pupi Avati is a director, screenwriter and producer best known for his work on The House of the Laughing Windows (1976), Una gita scolastica (1983) and I cavalieri che fecero l'impresa (2001). As a respected filmmaker both nationally and internationally, he was also a jury member for the Venice Film Festival in 1989 and theCannes Film Festival in 1994.
Cast: Riccardo Scamarcio, Sharon Stone, Cristiana Capotondi, Giovanna Ralli, Cristian Stelluti, Osvaldo Ruggieri, Tommaso Ragno, Sandro Dori, Fabio Ferrari, Vanni Fois, Viola Graziosi, Patrizio Pelizzi, Antonio Caracciolo, Fabrizio Amicucci, Michele Sueri
Bella Vita
Born of mistral winds and witness to the birth of Western Civilization, the waves of the Italian coast have carried merchants, fishermen, travelers and kings. Preserved like a Roman ruin, the surf of the Italian coast now carries surfer, artist, and environmentalist Chris Del Moro on a pilgrimage back to his ancestral homeland to explore a culture where old-world-convention and traditional craftsmanship have matured into a modern surf lifestyle. Filmmaker Jason Baffa chronicles Chris and his friends Dave Rastovich, Lauren Lyndsey Hill, Conner & Parker Coffin and Italian stand-outs Alessandro Ponzanelli and Leonardo Fioravanti as they explore the burgeoning new surf culture blossoming among the Mediterranean's oldest and cherished traditions – an intimate and powerful journey of self-discovery, seeped in culture and passion.
Award winning filmmaker, Jason Baffa, has been working on his craft for over 30 years. On the heels of his independent film success with One California Day and Singlefin: yellow, Baffa continues to work as a director/dp and has shot multiple commercial and film assignments for advertisers, studios and other filmmakers.