KO Artist Feature Audrey Mabee
I am excited to introduce a new artist feature. During the summer I was fortunate enough to visit the studio of local Calgary Artist Audrey Mabee. Studio visits are my favourite way to meet artists because I get to see the inner workings or their mind, then hear all about it in their own words. The messier the better, because it gives light to the process which can be the most beautiful aspect of creating art.
Audrey was working on her pieces for her upcoming show opening next Thursday September 14 at  Gibson fine Art Gallery . Audrey stated  her current show is "figurative….people enjoying life, pursuing their passions." The oil on canvas pieces are a collection elongated women in black dresses holding flowers, the colors are bold and contrasting again the women in their black dresses.
I sat down with Audrey to hear more about her life and Calgary and had the opportunity to ask her some of my favourite interview questions… After Audrey graduated Art school, she worked in the advertising office of a department store and taught art for several years for the City of Calgary, the College of Art and Strathcona Boys School before opening a little shop, the Croft, with a partner. At the Croft she sold Fine Canadian Crafts and primarily Alberta pottery for just over 23 years. Audrey was the Interim President at Alberta College of Art and Design for just over a year. Nowadays Audrey paints full-time and shows her work every couple of years.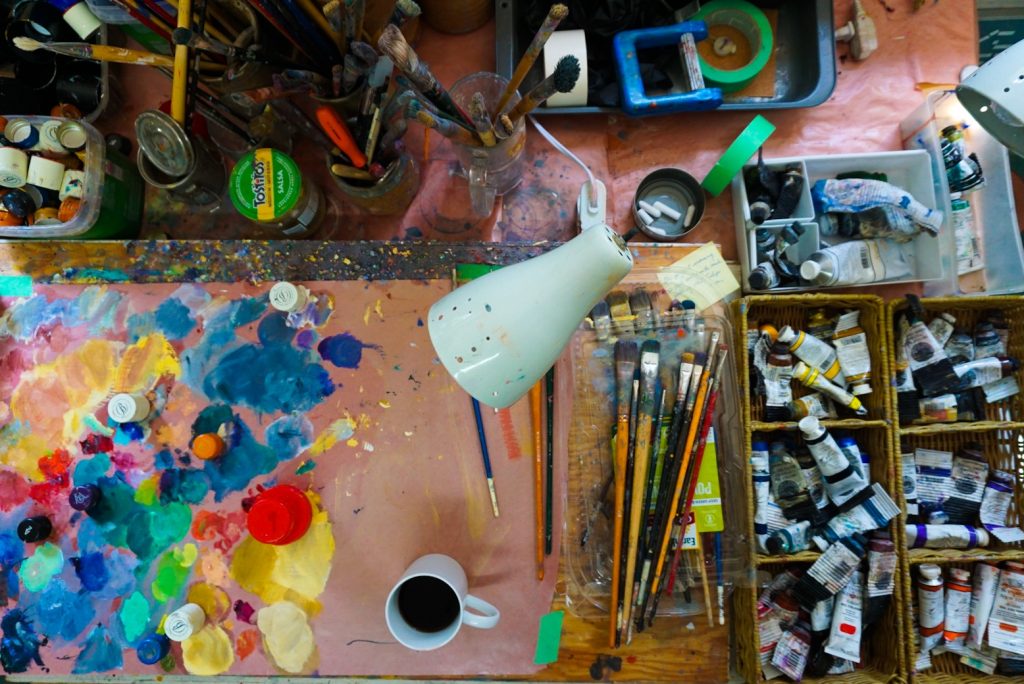 KO: What it the inspiration for your current show and details of the opening?
AM: Actually, I was experimenting with yellow. I tried one with a long thin figure wearing black in it, then went on to produce eight more. That is how the show was born. It opens Thursday September 14 at Gibson fine Art Gallery 5 p.m. to 8 p.m., 628  11 Ave. SW Calgary.
KO:What is your personal definition of art?
AM: After years of experimentation with colour and space, stirred memories and forgotten secrets, my work keeps evolving. The experiments go on, the learning continues, the style moves on.
Everyone has their own idea of good art. Personally, I like something that feels like good design, a thoughtful harmony of colours and makes the viewer think, imagine, cry or giggle.
KO: What is your Artistic Medium?
AM: Generally, oil on canvas
KO: At what age did you decide you were an artist?
AM: Don't usually call myself an "artist"….still working on it.
KO: What is your earliest "art" memory that evoked the feelings inside you?
AM: I'm sorry, but I don't think I have one. I just always drew or painted or something and loved doing it.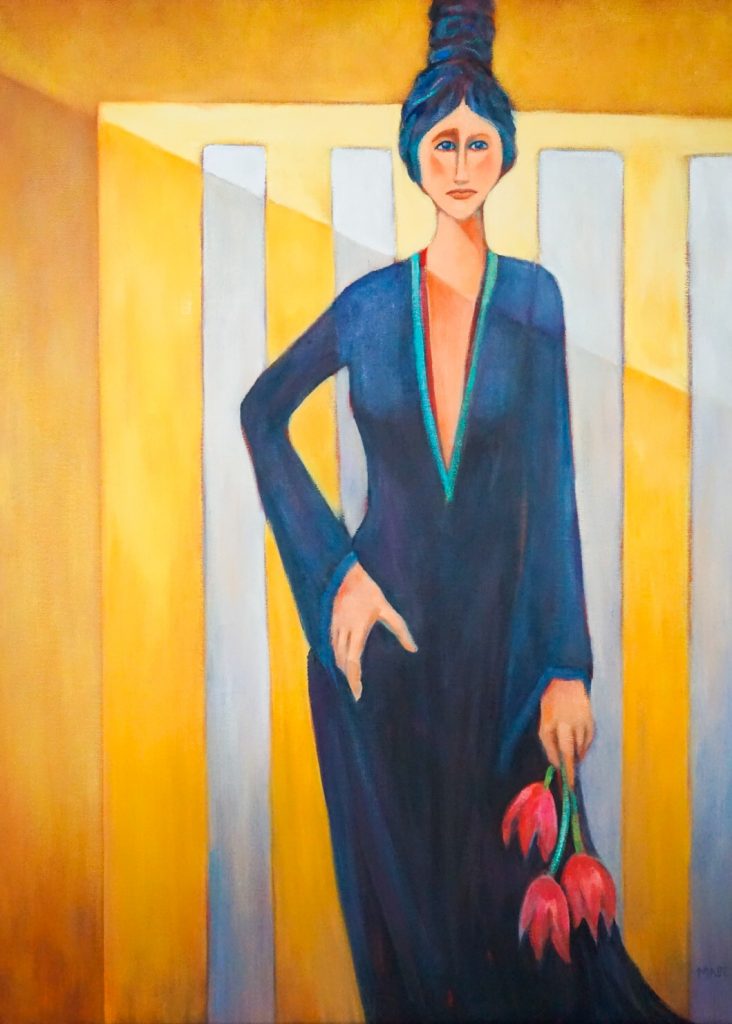 KO: What is your favorite film?
AM: Still like Casablanca, Dr Zhivago and most Woody Allen Movies.
KO: Who is your favorite fashion designer?
AM: I like the casual good looks of American designers like Calvin Kline (especially for jeans) and also Ralph Lauren.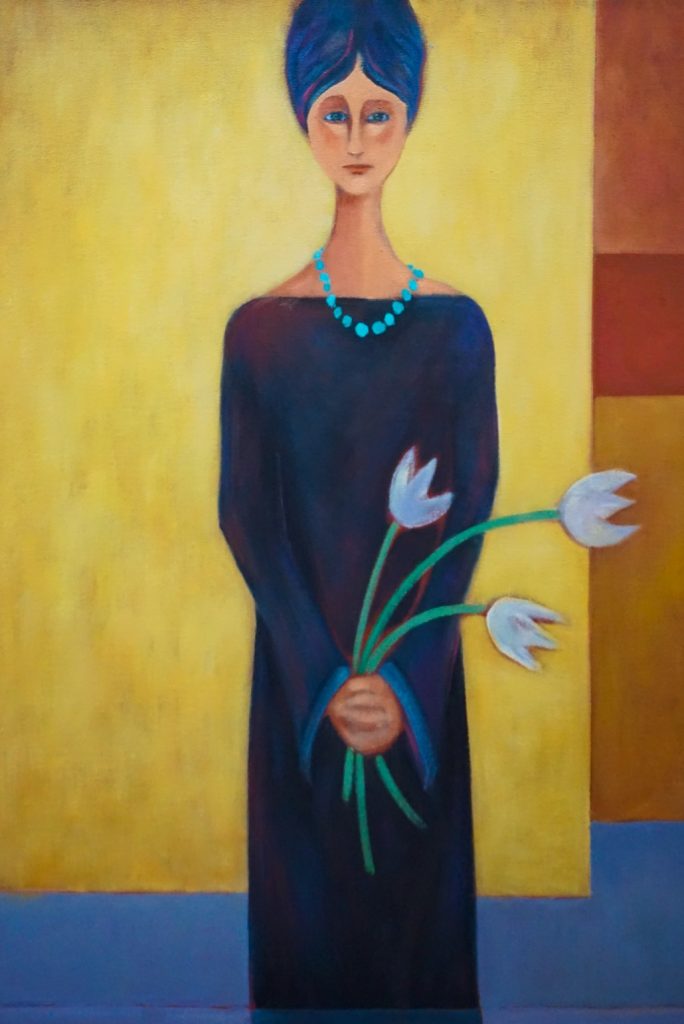 KO: What are the staples of your wardrobe?
AM: My style these days is basically jeans and a T shirt with a good jacket.
KO: What kind of music do you like to listen to while you are working?
AM: Cool jazz
KO: Who is your favorite artist?
AM: Probably Amedeo Clemente Modigliani or Gustav Klimt…..but I love many more
KO: What artistic movement or period has influenced you the most in your own practice?
AM: Impressionists
KO: What did your parents do that help encourage or discourage you in your artistic practice?
AM: Sent me to art school for post-secondary.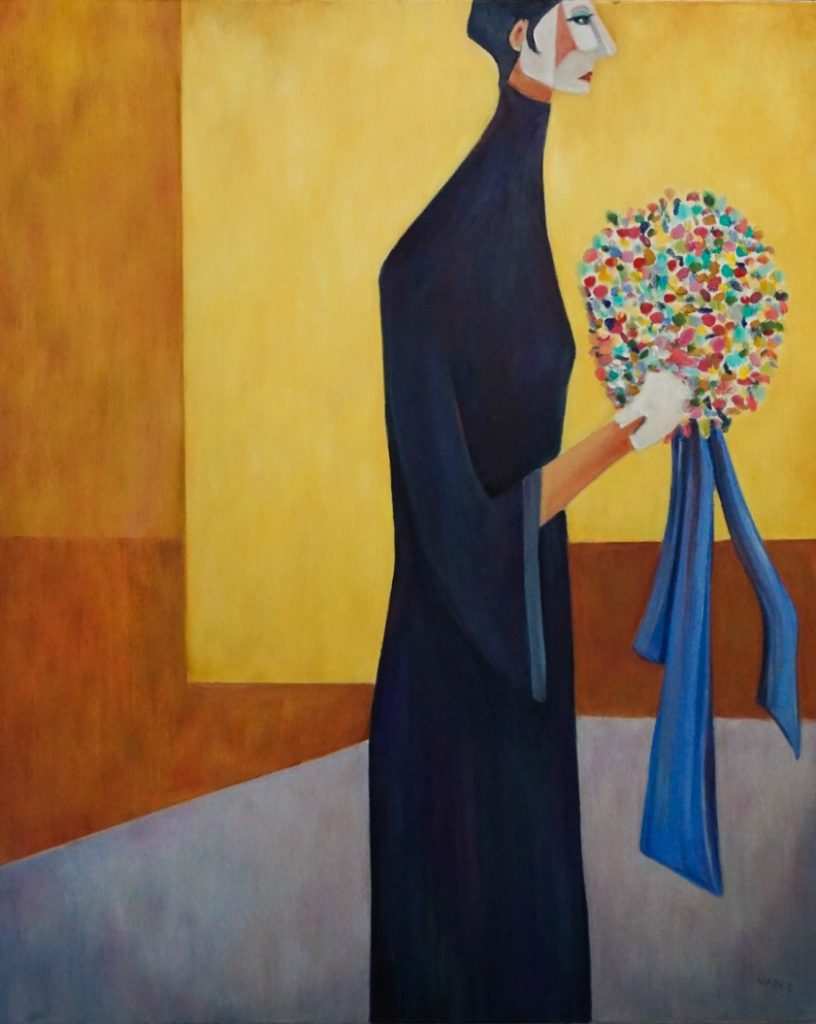 KO: What advice would you give future artists?
AM: Never stop learning ….keep taking courses and keep working.
KO: Are you superstitious?
AM: No, just a bit weird sometimes 🙂
KO: What does your creative process look like?
AM: I get an idea of something I would like to paint, try it….then I usually do another, then another then go back to the first and fiddle with it and keep fiddling around with them until they feel right, and that can sometimes take a very long time. The ideas just keep growing out of each other.
KO: Where do you create?
AM: I paint in my studio and it is at home.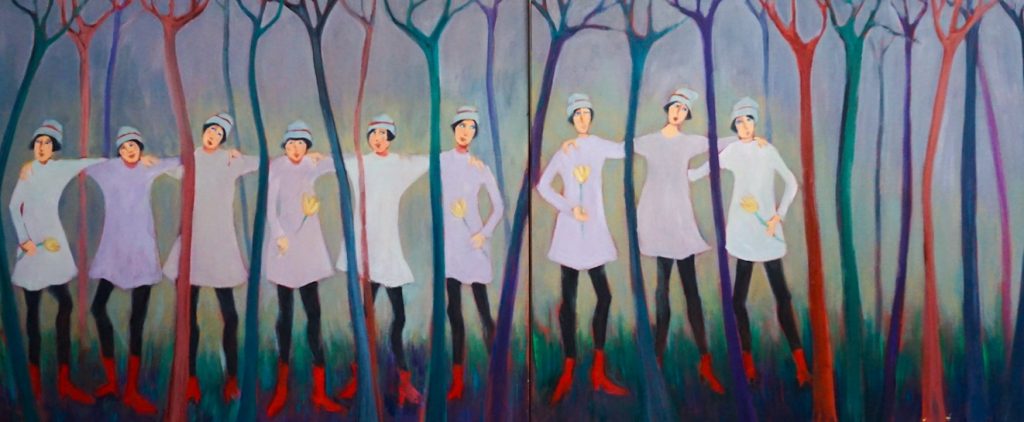 KO: How has your style evolved?
AM: This is an interesting question. I have never consciously tried to change the way I paint, but with each painting, I learn something new and they just evolve. I am surprised (and sometimes charmed) when I see paintings that I did 20 or 30 years ago, but I can't paint like that any more, nor do I wish to.
KO: Where do you ideally see yourself in 7 years from now?
AM: If I am not in a nursing home, probably down in my little studio still painting for pleasure……mine and I hope other peoples too.