KO Artist Feature Liz Tran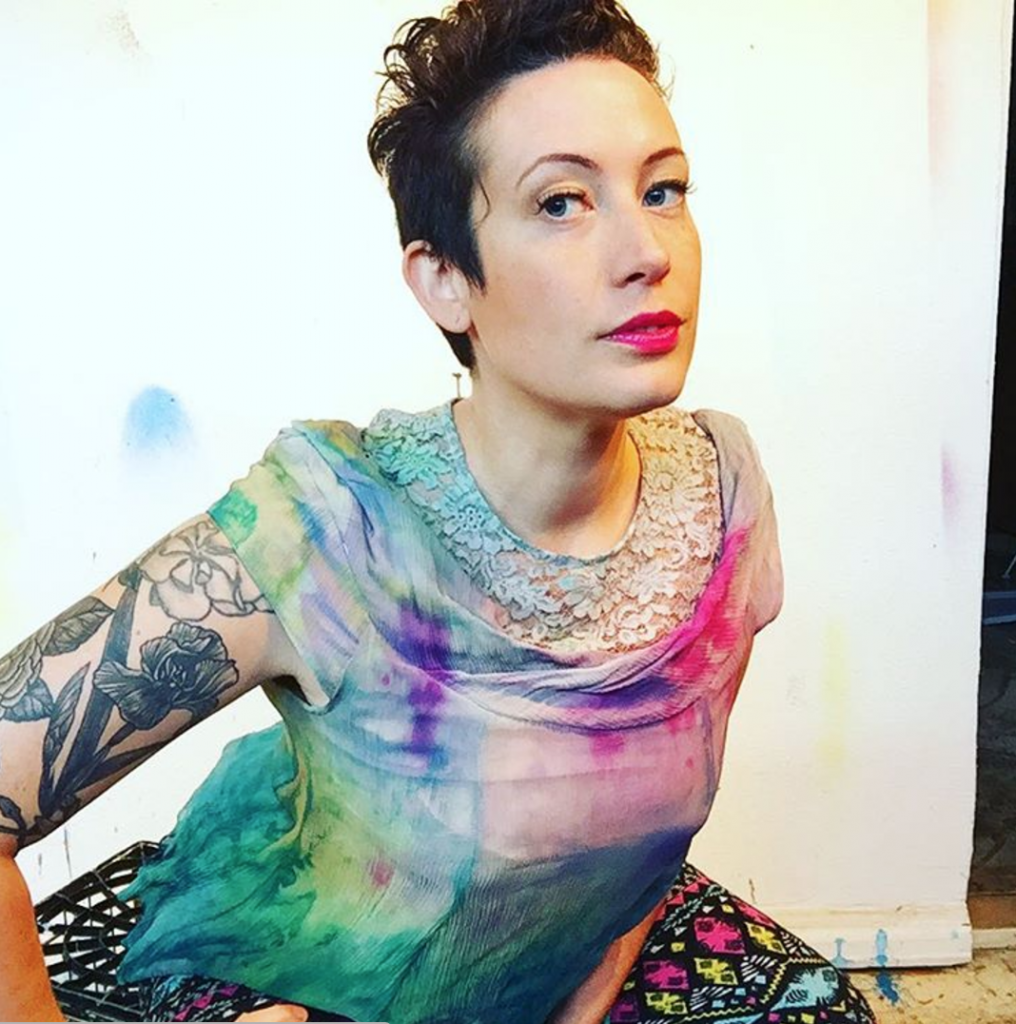 The first artist feature of 2017 is none other than the super vibrant, flashy and splashyLiz Tran. Funny story,Lizand I met years ago at dinner in Hawaii through my brother-in-law. But it wasn't until recently fate brought us together again over my favorite social platform Instagram <3 Liz's artwork makes me feel this complete sense of excitement inside. Like the way I felt when I first watched the originalWilly Wonkafilm.
Liz'sartwork features psychedelic, fantastical explosions of vivid colors on canvas and incredible installations. Through painting, sculpture and installation, she creates atmospheres that aim to activate. Most recentlyLizis in residence atZinc Contemporaryin Seattle where she will be having here solo showJaWbReAkEr on March 2, 2017. Prior to this,Lizhad a sensational installation during Art Basel in Miami atPhylogeny Contemporary.
A graduate in Print Art and Painting from Cornish College of the Arts,Lizexhibits both nationally and internationally but currently resides in Seattle, WA, USA.
KO: What is your personal definition of art?
LT: The Merriam-Webster Dictionary defines art primarily as a skill used for decorative purposes, which is limiting. "Skill" is a subjective judgment, so I'll hesitantly go with art being the "output of imagination". Honestly, I have never found a perfection definition of "art". Trust me, I've spent way too much time mulling over the question.
KO: What is your artistic medium?
LT:Painting, sculpture, ceramic, video and installation art are my mediums. However, painting plays a part in each one and I consider it to be my primary discipline.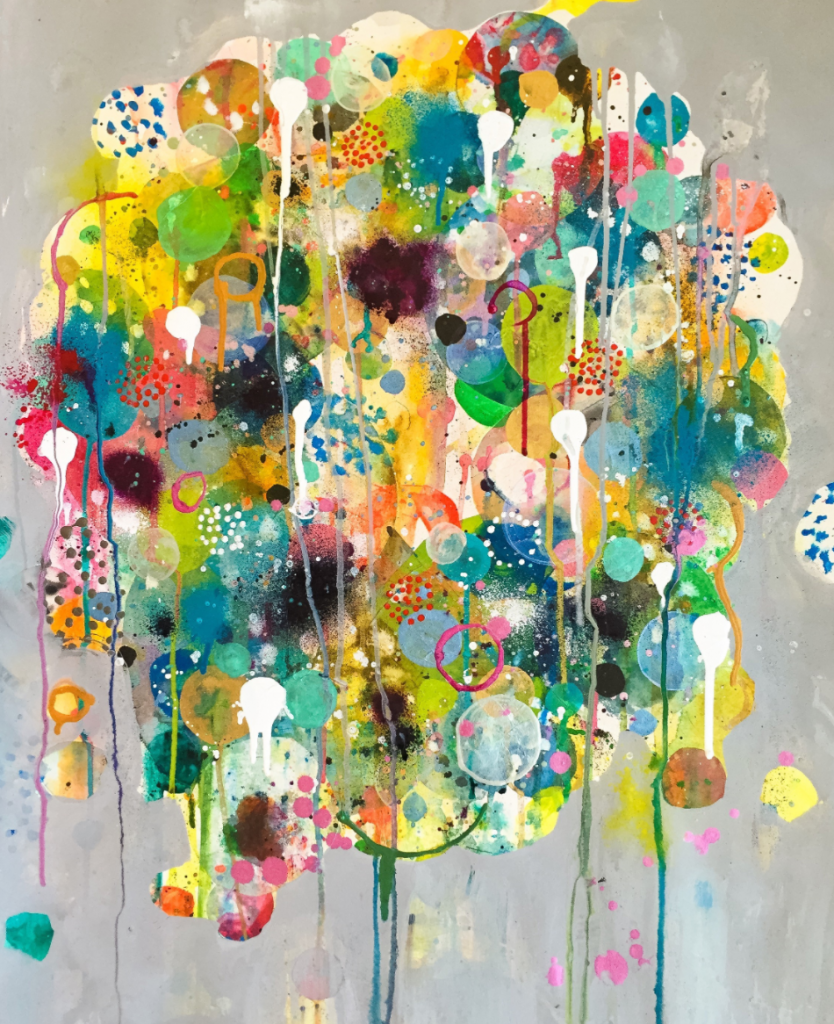 KO: At what age did you decide you were an artist?
LT: I've created art ever since I can remember but I don't recall calling myself an "artist" until obtaining my college degree. In a sense, the decision of labeling oneself as an artist can feel like the equivalent of jumping off of a cliff.
KO: What is your earliest "art" memory that evoked the feelings inside you?
LT:Winning the coloring contest at the local supermarket!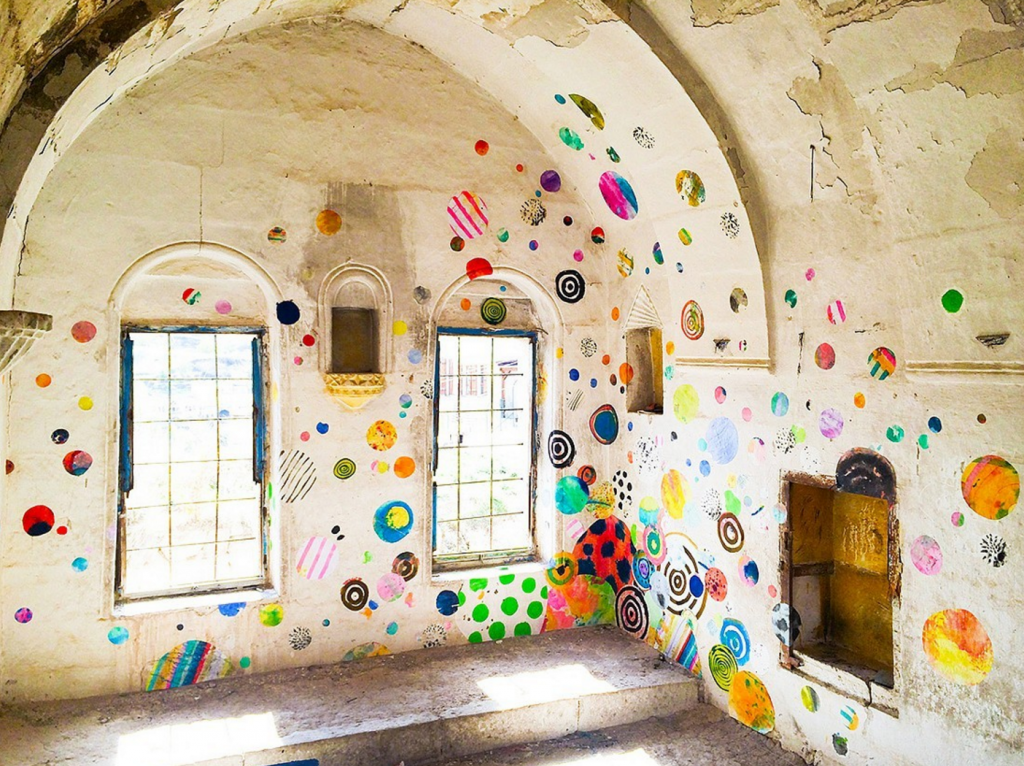 A Beginning Before the End- Mixed Media Installation 2014 – Completed at the Babayan Culture House in Ibrahimpasa, Turkey
KO: What is your favorite film?
LT: I don't actually have a favorite film but I'm a big fan of David Lynch and went through a major Hal Hartley phase back in the 90's.
KO: Who is your favorite fashion designer?
LT: Whoever invented yoga pants and oversize tee shirts. Fancy clothes aren't safe in my occupation.
KO: I think you should collaborate with a design and print fabric patterns based on your work, then the dirty they get while you are working, the more "authentic" they will be 😉 Just like the Interstellar Superhero Survival Uniform (below)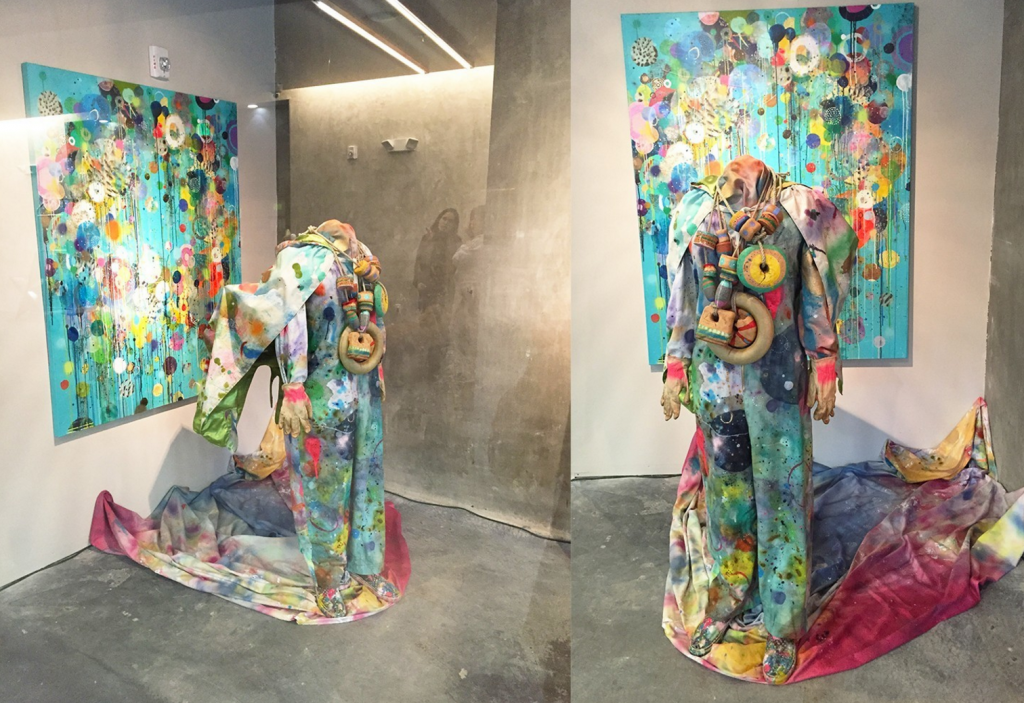 Interstellar Superhero Survival Uniform – Center on Contemporary Art, Seattle
KO: What are the staples of your wardrobe?
LT: Black, grey and more black. Also, anything that can be worn as pajamas yet still be acceptable in public, my pleather jacket and boots that make me appear taller.
KO: What kind of music do you like to listen to while you are working?
LT: Lately I've been listening to Santigold, Blood Orange, Beyonce, Beach House, Lower Dens, Hot Chip, M.I.A, NAO, Kurt Vile, Olafur Arnalds and Daughter. That's just a small selection. Music is crucial to my work.
KO: Who is your favorite artist?
LT: My favorite artist is always changing but today it's Nick Cave, the artist, not the musician. Although I love the other Nick Cave as well.
KO: What artistic movement or period has influenced you the most in your own practice?
LT: What is going on RIGHT NOW holds my interest and is my biggest influencer.  Contemporary art is where it is.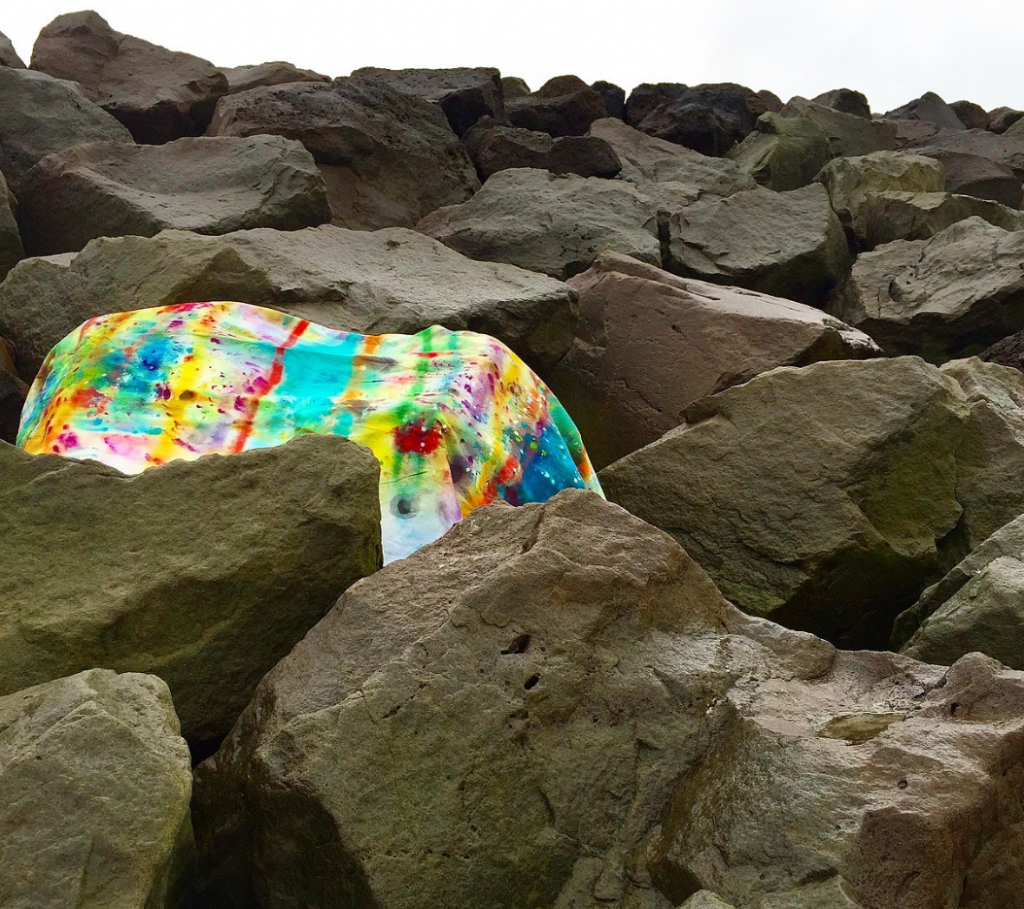 Extreme Boulder Makeover – Completed while in residence at Samband íslenskra myndlistarmanna / Reykjavík
KO: What did your parents do that help encourage/discourage you in your artistic practice?
LT: Even though money was tight, they enrolled me in art classes and made sure I always had supplies to make my work. In my teens, my father made the suggestion that I have a backup career, an idea I promptly rejected.
KO: What advice would you give future artists?
LT: Put in the time, keep a soft heart but grow a thick skin, find your own voice, trust yourself and give it your all.
KO: Are you superstitious?
LT: Superstition is relatively new to me but lately I've been incorporating more ritual into my life, which could definitely be filed under that category of superstition. I often paint with moon water (water left outside to be charged under a full moon) and have been researching various stones and their metaphysical properties. My studio sports a lucky horseshoe above the door and a glass evil eye that I picked up in Turkey. I don't 100 percent believe in these rituals and superstitions but find them comforting.
KO: What does your creative process look like?
LT: A mess that periodically pulls itself together.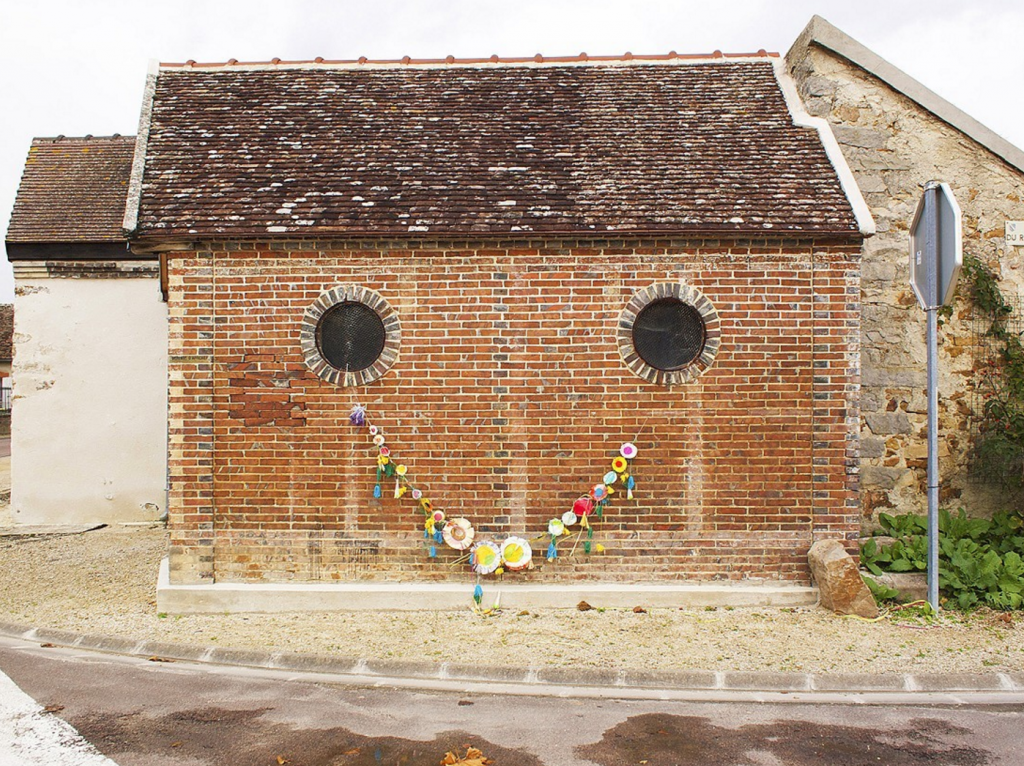 Smile-Cut paper, paint, string, plastic and burlap 2013- Created at the Camac Art Centre in Marnay Sur Seine, France
KO: Where do you create?
LT: In my studio and occasionally outside for site-specific installations.
KO: Where is your studio?
LT: It's attached to my house and located off of an alley in the Central District of Seattle. Although, this month I'm an artist in residence at ZINC contemporary in Pioneer Square and am using their gallery space to work on a large commission and paintings for my upcoming solo in March.
KO: How has your style evolved?
LT: Over the years my work has become more vibrant, introspective, abstracted and bold.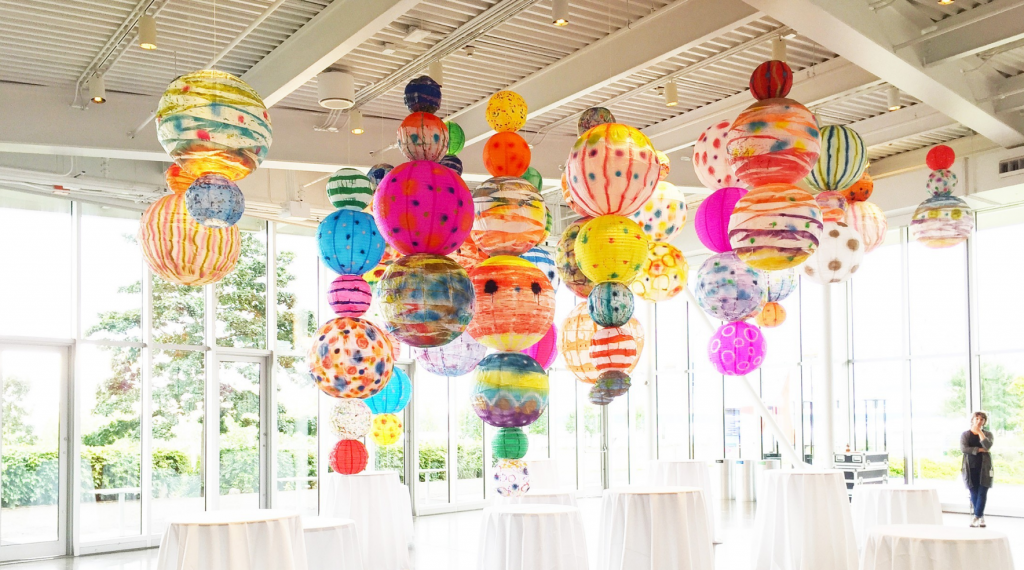 Drops -The Seattle Art Museum's Paccar Pavilion at the Olympic Sculpture Park.
*All photos courtesy of liztran.com