'Winter is Coming' Game of Thrones & FW 2017 RTW
The three day countdown is on to the season 7 premiere of Game of Thrones. Originally, this was a show my husband watched in bed on his laptop for the first two seasons, and I got hooked by default. Now I am counting down the days to see what will unravel in this upcoming season…
As on Game of Thrones, and in real life 'Winter is Coming'.  It's time to start thinking forward to what you will wear this upcoming Winter season. Khaleesi and Cersei will battle it out for Westeros, Sansa and Arya Stark will be a powerhouse if they ever find each other. But who will end up ruling at the end of season 7? Of course I hope it's Khaleesi, the mother of dragons!!! I can't wait to find out when it starts on HBO July 16, 2017.  Expect to see just about everyone you know ditch the sunshine on Sunday, when television's most talked-about show makes its longed-for return. Producers have promised a faster pace for this shorter run, and trailers have already teased at least one epic, dragon-fuelled battle (watch the trailer above).
What to wear: You've heard the 'Thrones mantra: 'Winter is Coming.' I'm taking this as the perfect excuse to start my winter shopping early.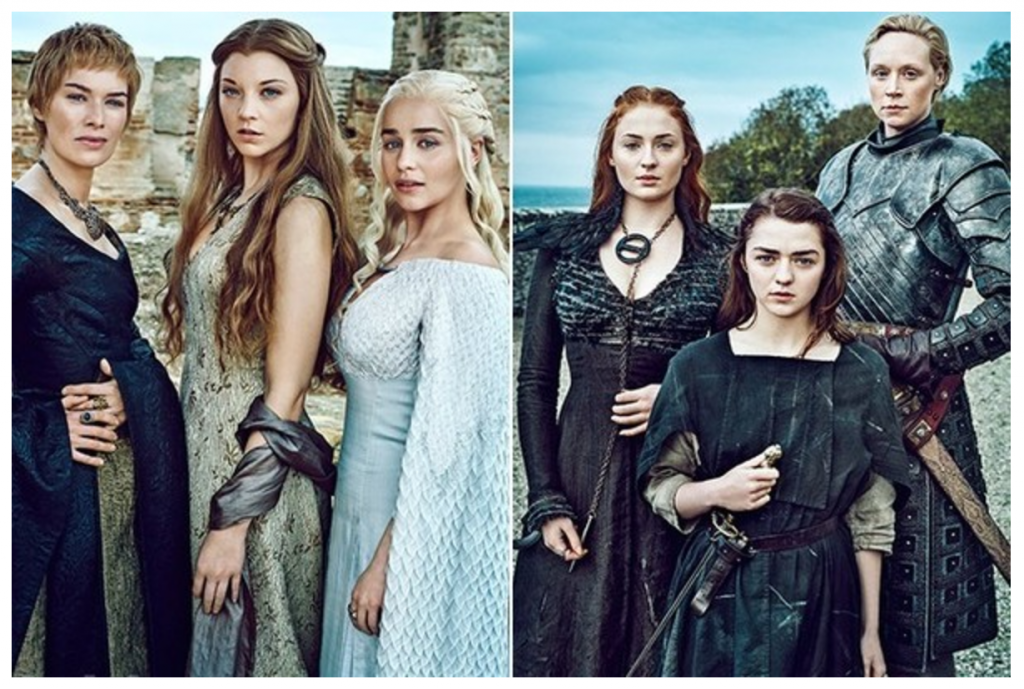 On the subject of 'Winter is Coming' here is my curation from the Fall / Winter 2017 Ready-to-Wear runways to keep you colorful and cozy throughout the season. (All runway images below courtesy of Vogue.com)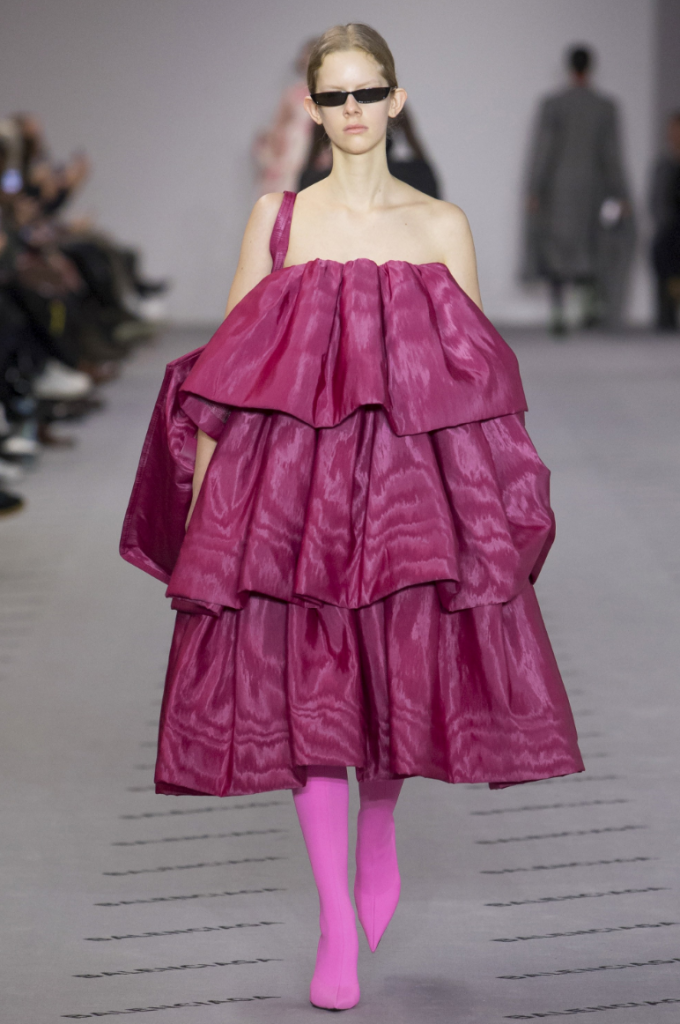 These colors and these Balenciaga boots are on the top of my list for Fall/Winter 2017. I have a lot of cranberry from FW2016, which luckily I can cross over into this upcoming season incorporated with new hues of pink for a fresh revitalized look. I anticipate a lot of knock-offs of this Balenciaga boot in a plethora of colors. I love this style and the pointed toe, especially in this color.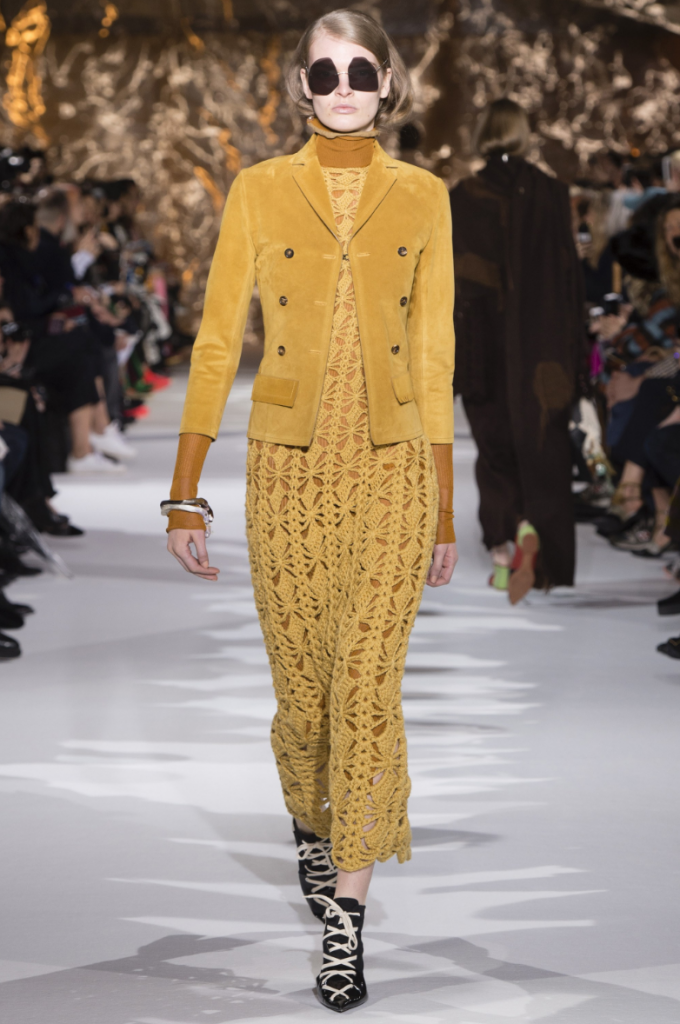 Acne Studios pass the mustard. This is another color that is popping up everywhere in coats, sweaters and dresses. I think this hue of yellow looks good on everyone, especially with a bold red lip!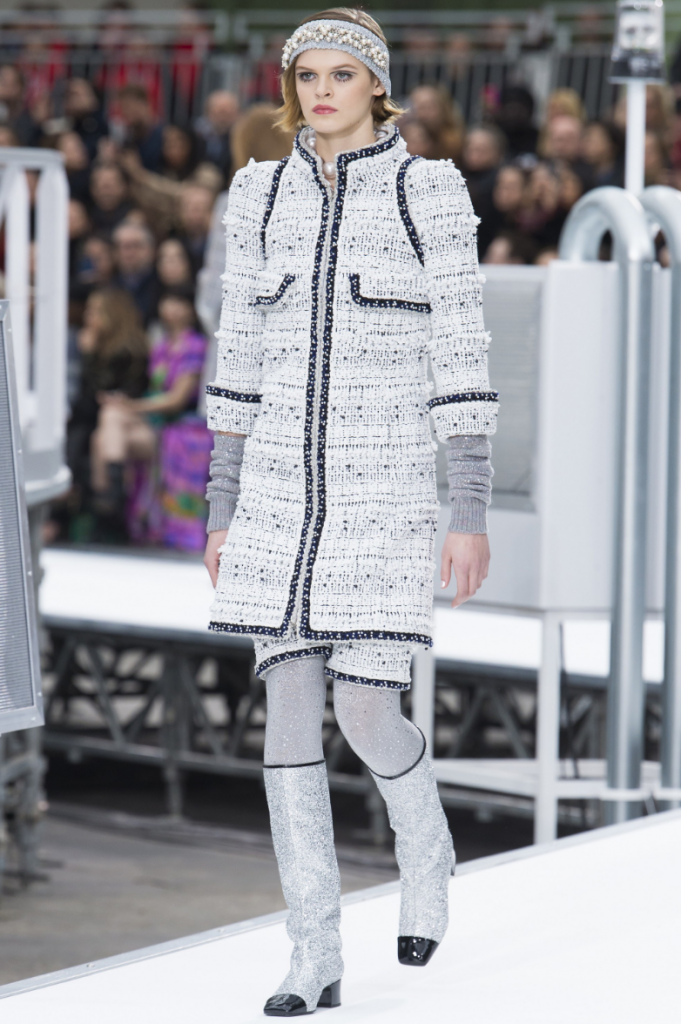 Chanel with all the glitter to distract your opponent. I love anything that sparkles and this layered combo with glitter everything really tops my list. I am not crazy about the square toe on these boots tho? I would really like them better with a rounded toe. Why did you do that Karl?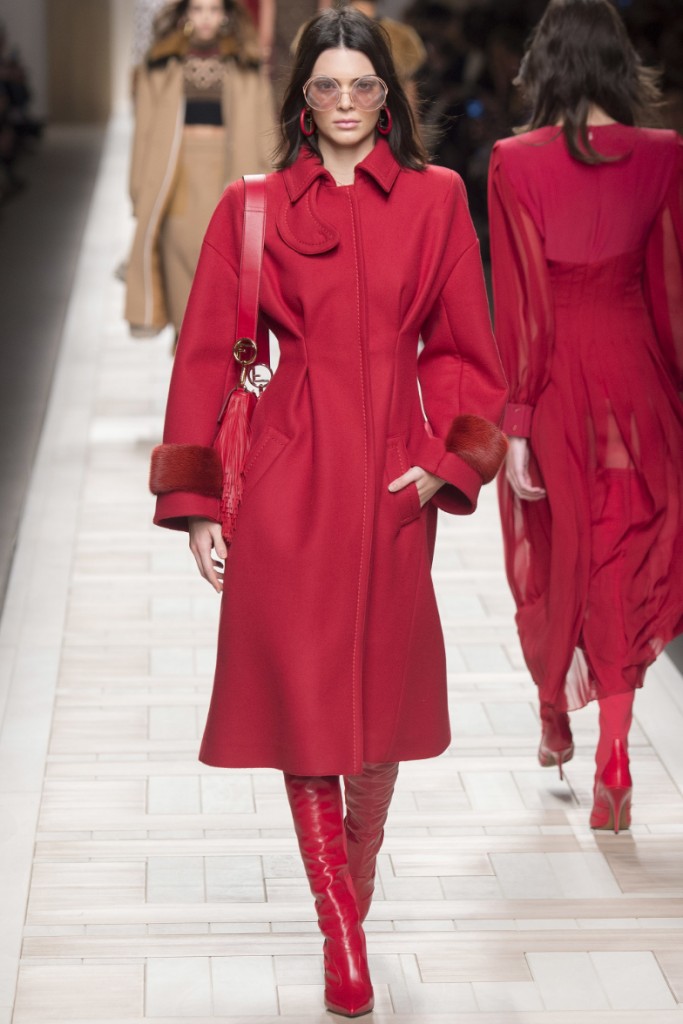 Fierce and fiery in Fendi. Red is always a show stopper, and I feel like a red coat could be pulled out season after season for a statement piece. The monochrome styling with the boots and purse is definitely next level.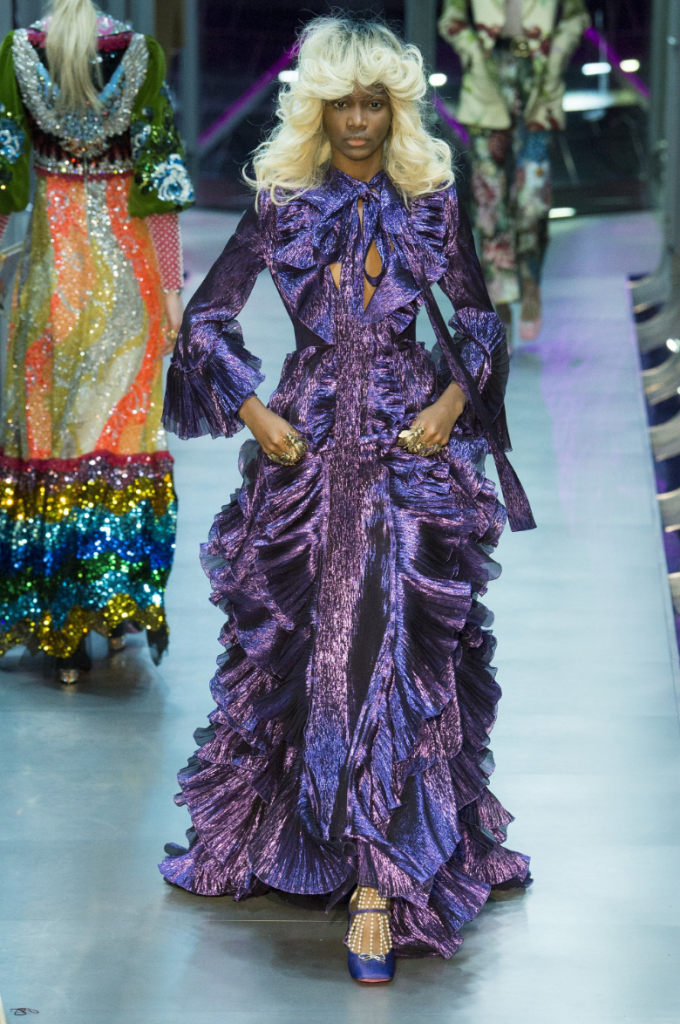 Gucci purple reign. Everything Alessandro Michele touches at Gucci turns to gold. I really didn't pay any attention to anything the house did at all until they brought on Alessandro, and then it was like an spiritual awakening. I love it all, the creatives, the fashion films, and all the collabs… brilliant. If you don't follow Alessandro on instargram, you really should:  @lallo25. I love seeing where artists draw inspiration from and his instagram is a beautiful collection of images that you can see the corresponding parallels in the designs.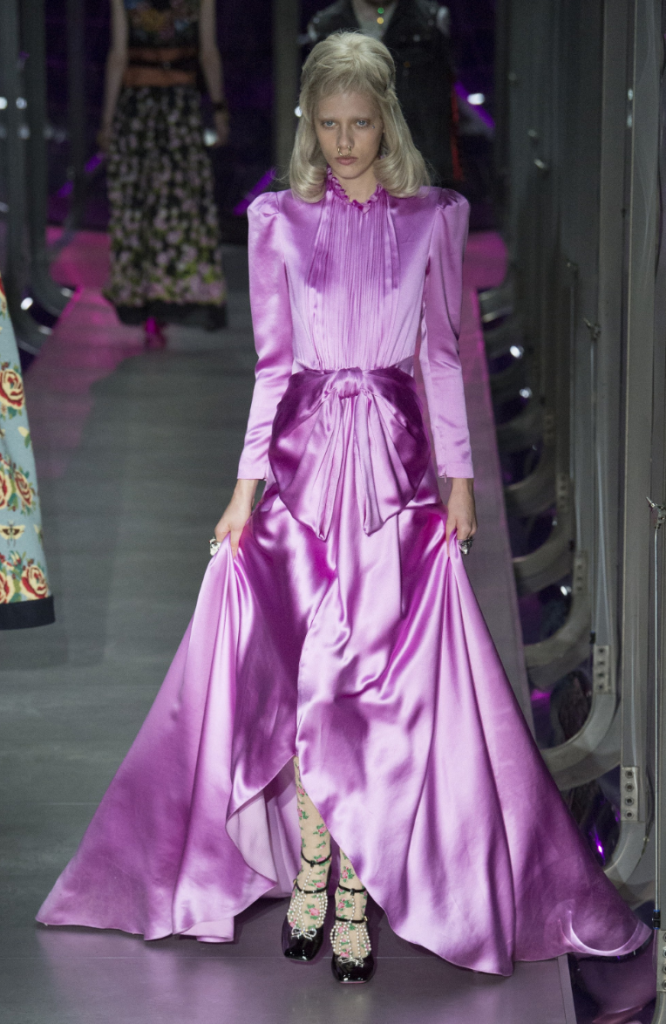 Gucci is too good this season not to post two pieces from the RTW collection. This fabric is just dreamy. You don't want to eat anything greasy in it for sure, it's a dress you need to walk into and across a room at an event to full gain the appreciation of the flow and reflection of light in the creases.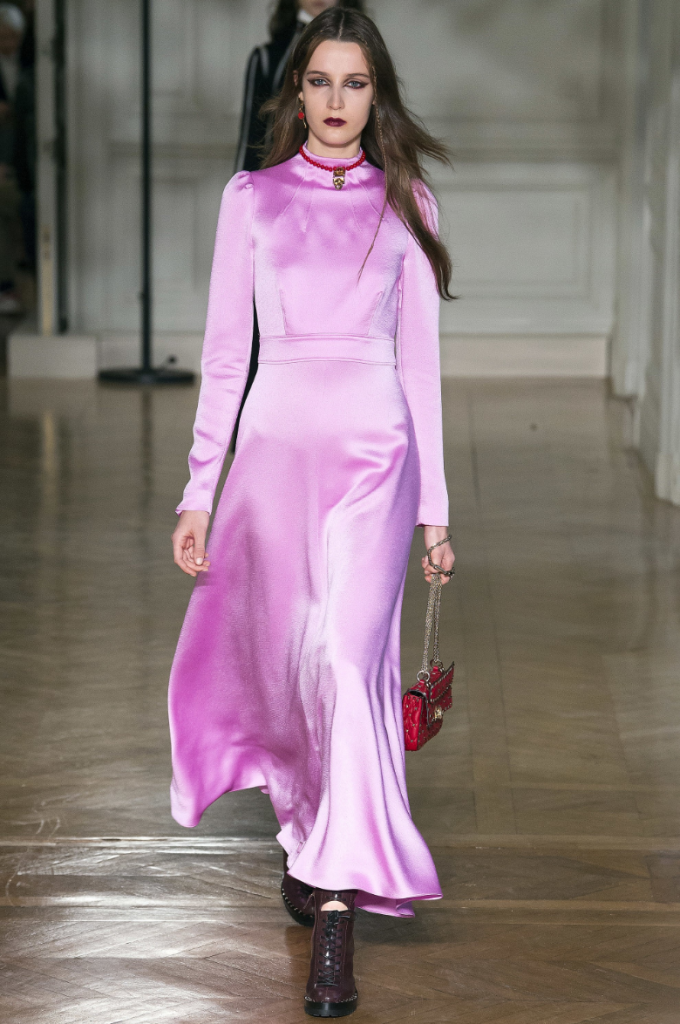 Valentino has a simpler version in a similar fabric. Less of the extra ruffles, bow and creases, for a more streamline silhouette.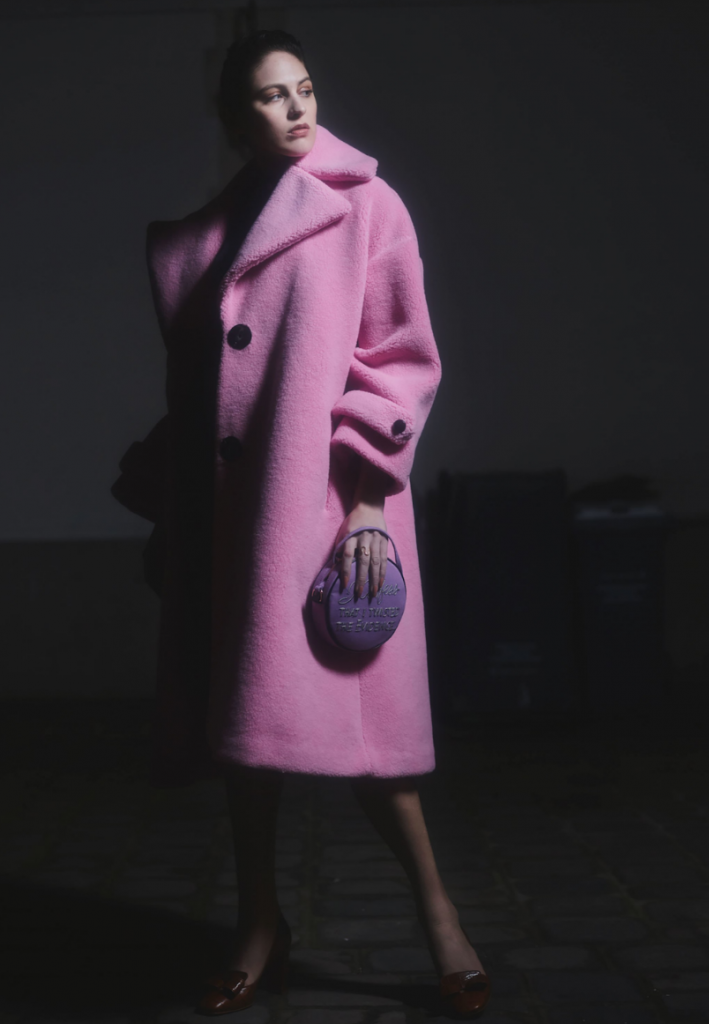 This fluffy pink by Olympia Le-Tan has so much volume and softness, I would love to wear this over one of those satin pink dresses. I live for oversized winter coats because you can literally be wearing your long pajamas under-neither with a big pair of sunglasses driving the kids to school on a snowy day, and look like a million bucks (at least to the other drivers). Even over jeans and great boots with a black turtle neck, it's a chic look.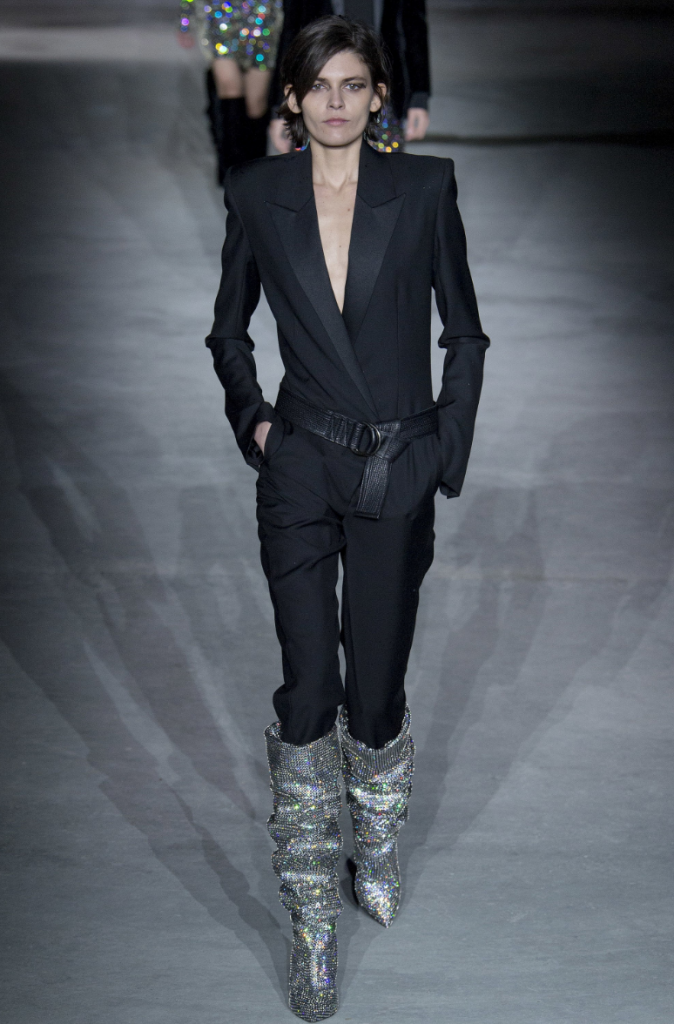 The Saint Laurent boot that blew everyone's mind. I feel you could wear absolutely anything with these boots and look amazing because no one would ever see anything else. Crystal encrusted and sparkling from everything angle, these boots will be few and far between in boutiques, and just like they blew up on every fashion bloggers social feed in February, they will surely be in every magazine editorial in September.
More Casual Options: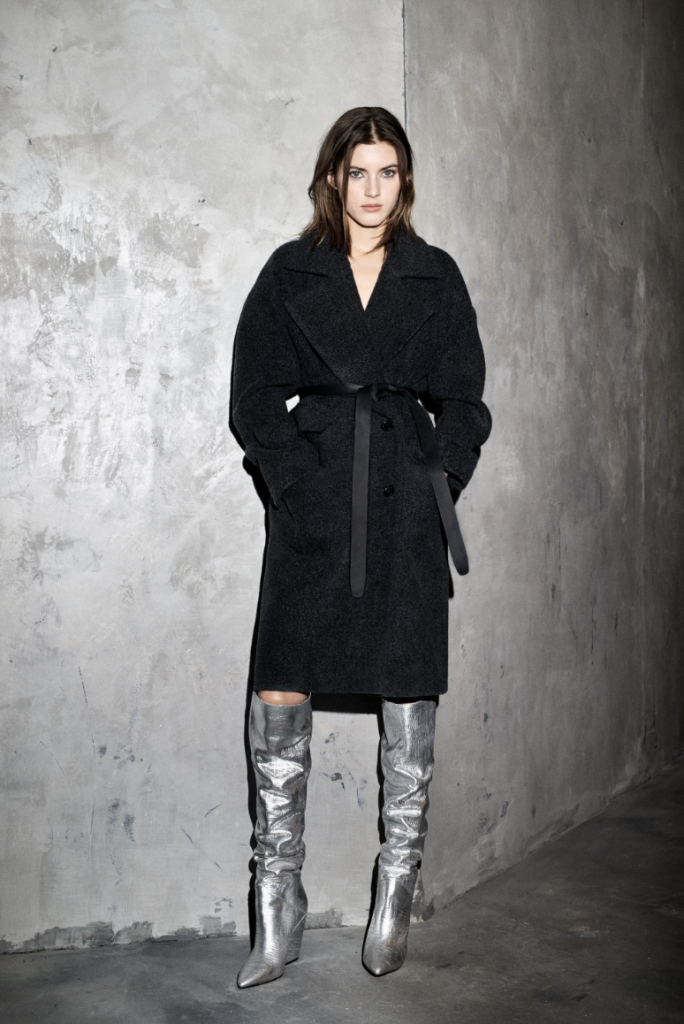 If you want the Saint Laurent Boots but don't want to shell out the $10K, these IRO boots are a great option. I could think of one hundred different ways to wear these boots! 🙂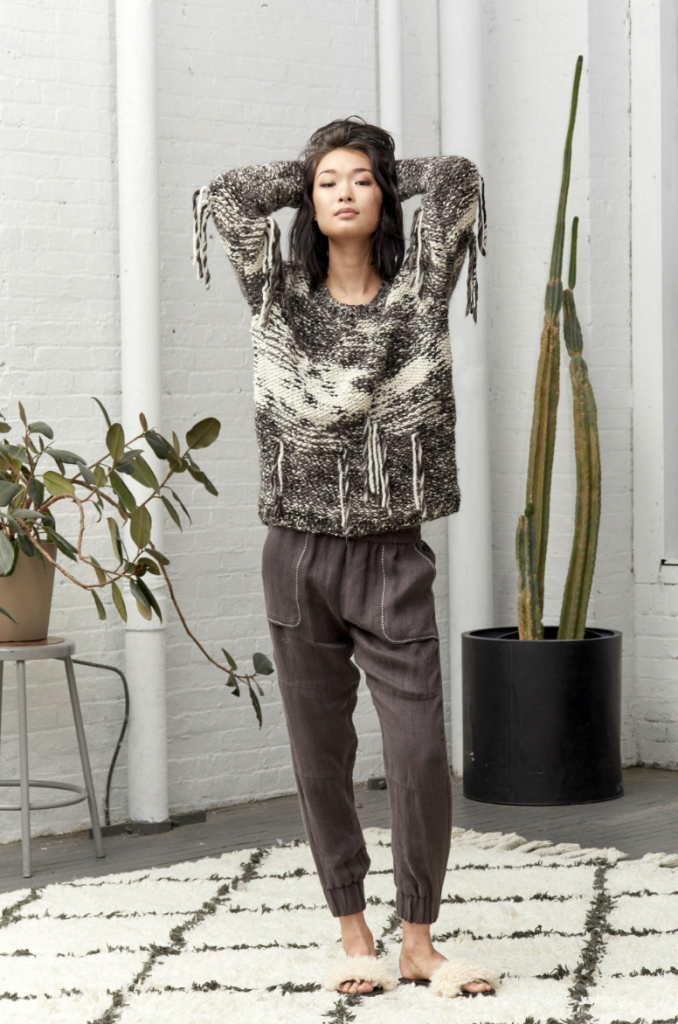 Canadian designer Laura Siegel was one of the first designers I heard of creating ethical fashion, starting back in 2012. Since then, Laura's  collections have expanded in sustainable production. Artisans in India and Peru are at the roots of her label, and she works with them directly to hand-knit, hand-embroider, and hand-weave the garments, which in turn helps to preserve those crafts and traditions in those countries.
For her new collection, one of the artisans groups Laura works with in Peru helped her develop a space-dyed alpaca wool sweater all hand-made. The fringy sweaters are hand looped and will keep you warm all winter. (Is it just me or does every single one of my friends on instagram own the carpet the model is standing on? 🙂 )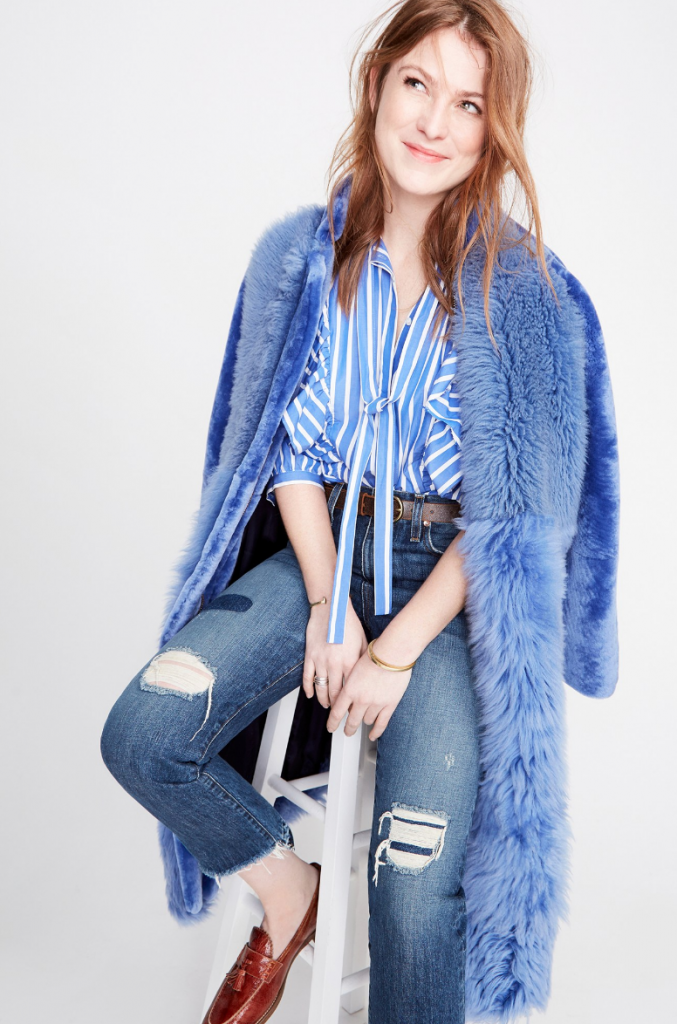 This J.Crew faux fur coat in periwinkle blue could dress up anything this fall. Such a fun color, especially with anything denim.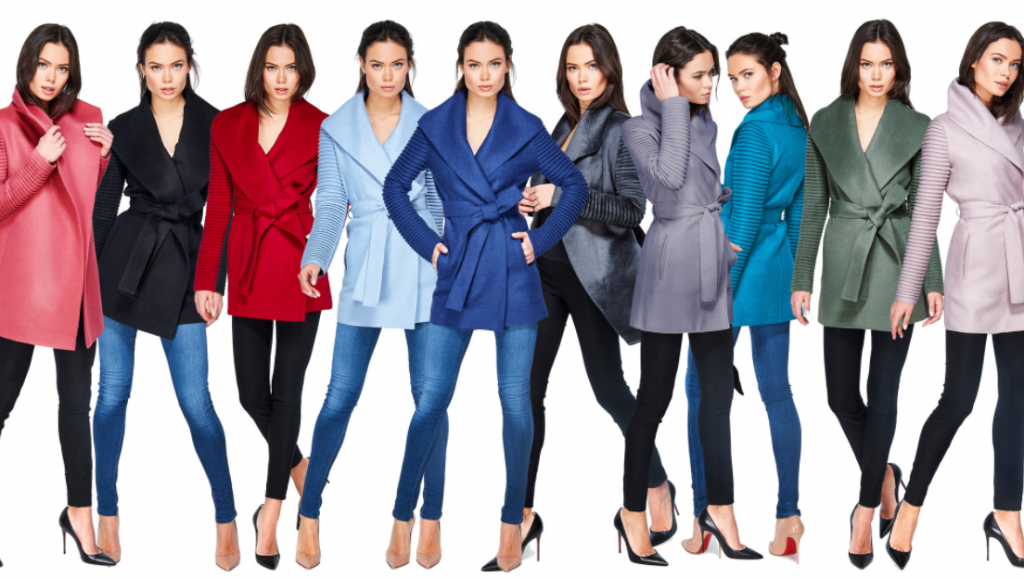 Sentaler Coats are my favorite. Made with the warmest alpaca wool and they now come in a variety of colors. These coats have been a staple of my winter wardrobe for the past couple of years. The luxury Canadian designer coats have blown up in the past year when Kate Middleton and Meghan Markle were snapped wearing them out and about. Sentaler ships free worldwide, but they sell-out quick so don't miss the chance to own your favorite color.